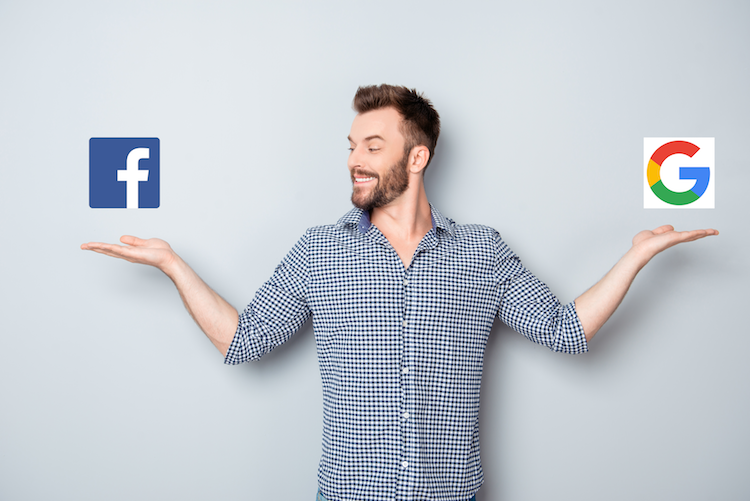 Wednesday, January 17, 2018
As a leading digital marketing agency, we at Rhino Digital Media are often asked about the best way for a local business to spend advertising dollars. In 2018, we're far enough along into the digital age that most companies understand the importance of maintaining an online marketing presence, towards their goal of attracting, converting, and retaining a customer base. Just about everyone is aware that Google and Facebook are major players in this arena, but many can't decide which of those is a better use of their marketing budget.
Let's take a look at these two powerful channels: Google AdWords and Facebook ads, to see which provides more value to you as a business owner. But first, I'd like to talk about each of these platforms, so we're clear about what they are and how they work. Then we can examine the pros and cons of each, and try to determine which will give you the results you're looking for.
What is it?
AdWords is Google's online advertising service. It delivers brief snippets of advertising content to users of Google's web search, based on the subject matter that they're searching for. It uses what is typically known as pay-per-click (PPC) advertising, a business model in which the advertiser pays based upon the number of times that users click on the link in their ads.
How does it work?
Google AdWords is generally referred to as "paid search". It shows your content to users, based on keywords (words or phrases that people include in their search queries). Your ads will appear at the top of search results on Google's own page, or on pages on other websites or mobile apps. These ads may be text-based, or they may include other media, like photos or even YouTube videos. You can target local customers only, if that fits your business model, as well as reaching out to specific regions or countries. The pay-per-click model means that your cost is based on the number of times that someone actually clicks through to your website.
Facebook users aren't looking for anything in particular, and they probably aren't there to shop. They do, however, reveal a lot of information about about who they are and what they're interested in during their time on Facebook. You can target your audience based on a variety of demographic parameters, as well as their interests and behaviors.
Read More