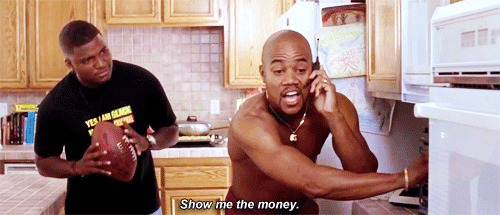 I don't know about you, but my friends and I love to quote movies and TV shows to each other on a regular basis. Maybe it's because we're in a certain age group, but hardly a conversation goes by without dropping some silly quotes from our favorite comedies like "Anchorman" or "Superbad."
Sometimes, a quote is just the perfect response to a given situation, even when that situation involves marketing. If you're a marketing professional, here are 9 movie quotes you should live by:
"Never tell me the odds," – Han Solo (Harrison Ford), "Star Wars Episode IV: A New Hope"
What's our current keyword rankings? What's our lead conversion rate? Doesn't matter. Don't tell me. I don't want to know the odds, because I'm gonna' beat them!
"I'm kind of a big deal. People know me." – Ron Burgundy (Will Ferrell), "Anchorman: The Legend of Ron Burgundy"
I had to include at least one Anchorman quote here. This is the kind of quote you want to use when you see how high some of your blog articles are ranking on Google.
"I'm gonna' make him an offer he can't refuse." – Vito Corleone (Marlon Brando), "The Godfather"
The quintessential Godfather quote, it's how you want to describe all of your content offers.
"I think this is the beginning of a beautiful friendship." – Rick Blaine (Humphrey Bogart), "Casablanca"
Probably what you want to say to a visitor when they become a lead.
"I will look for you. I will find you. And I will (convert) you." – Bryan Mills (Liam Neeson), "Taken"
So I may have replaced a word in the quote, but it still works. This is what you want to say to visitors who come to the site without downloading a content offer.
"Show me the money!" – Jerry Maguire (Tom Cruise) or Rod Tidwell (Cuba Gooding, Jr.), "Jerry Maguire"
What you want to say to a lead when they refuse multiple attempts to convert them into a sale.
"Hmm. Your ideas are intriguing to me and I wish to subscribe to your newsletter." – Homer Simpson (Dan Castellaneta), "The Simpsons"
This is what you hope every person who reads your blog says to themselves.
"I'm mad as hell, and I'm not going to take it anymore!" – Howard Beale (Peter Finch), "Network"
What anyone who is tired of yellow pages advertising is probably saying to themselves right now.
"You don't understand. I coulda' had class. I coulda' been a contender. I coulda' been somebody, instead of a bum, which is what I am, let's face it." – Terry Malloy (Marlon Brando), "On the Waterfront"
Brando's second appearance on this list is for an all-time classic quote. And it's exactly what you'll be saying to yourself if you continue to resist inbound marketing methods for your business.