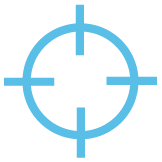 The Target
We began our partnership and relationship with Coral West Dental after having an initial "inbound marketing assessment" followed up by an "onboarding workshop".
Using the information gathered in these sessions RDM was able to develop a comprehensive plan of action to show Coral West how they could implement a fully integrated inbound marketing strategy. The following steps were put into immediate action after producing our mutually collaborative inbound game plan.
A new website was built on the HubSpot COS to insure that we could utilize the full suite of tools and analytics necessary to manage a great inbound experience. Buyer personas were developed, keywords were evaluated and targeted, a blog editorial calendar was created to insure proper keyword penetration and Google page indexing, 6 content offers were created along with corresponding eBooks, Landing Pages, thank you pages and SMART forms for proper lead nurturing. Workflows were developed to insure a thoughtful drip marketing process. Email templates were created and a full compliment of optimized site pages were created for all areas of services provided by Coral West Dental.
All of this was created with the goal of 1675 unique visitors per month. The statistical goal was to generate leads from 1675 monthly visitors at 2.8% that is 46.9 per month that would convert at a rate of 10% into approximately 5 new patients per month.