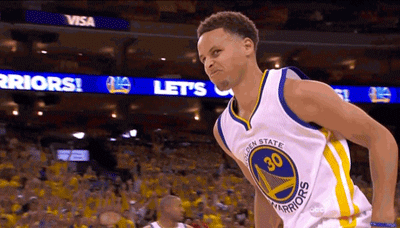 You'll forgive us for having a bit of Warriors fever here at Rhino (AKA Dubs fever) – our offices are only 20 miles away from Oracle Arena, which has become the most happening nightspot in the Bay Area recently. When we're not helping our clients generate leads or educating the public on the latest marketing topics, we're watching "Steph Curry with the shot," as the NBA's MVP has lead the Golden State Warriors to their first NBA Finals in four decades.
Oh yeah, and in case you're not a Warriors fan, the Cleveland Cavaliers are representing the East, and they're led by some other guy you may recognize. It's the fifth consecutive Finals appearance for LeBron James, and I hear that guy is pretty good. He can't shoot like Curry, though!
In honor of these Finals, we've compiled a little list of lessons you can learn from the NBA's 2015 championship series.
Teamwork can still get the job done
Before Curry started lighting the world on fire with his shooting, and even on nights when he's not on his game, the Warriors were still a force to be reckoned with. The reason? Teamwork. Rookie head coach Steve Kerr has them believing in team basketball, both on offense and defense. Their players share the ball and make the extra pass, leading to more open shots. And on defense, the Warriors swarm to the ball, and what they may lack in size or strength they make up for with effort.
The Lesson: When you work together as a team, you can become greater than the sum of your parts. In marketing, the sales and marketing teams must work together to really boost sales. If you promote teamwork and encourage these teams to work together, you're going to see your sales skyrocket.
Stick with your game plan
In the NBA, there is one common maxim that many coaches and general managers cling to: you need to have a stellar defense to win championships. Not many people believed the Warriors had what it takes to become a dominant team, and yet, here they are, on the cusp of an NBA championship.
The Lesson: Be true to your business, your products/services and your value proposition. Don't give in to public pressure or try to make your business seem sexier or cooler than it is. If you believe in your business and your products, then sell them as what they are. It takes some patience, but quality will eventually win out.
Superstars can't do it on their own
As much as we love Curry here, there's no doubt that LeBron James is the best player in the world. Not only is he dominant on both sides of the ball, he also elevates those around him. I'll give you a dollar if you can tell me you had heard of Timofey Mozgov before the season began, and he's just one of the players that is starting alongside LeBron in the Finals.
And yet, even the best player in the world can't do it by himself. He has needed contributions from his supporting cast to advance, and it's led to guys like Mozgov and Australian-born Matthew Dellavedova becoming household names. LeBron is great on his own, but when he gets help from his teammates? That's how you get to the Finals.
The Lesson: Every team or business has its superstars, but they can't do the job alone. Those around the strong performers play an equally vital role. You have to support these high performers and use their example to reach greater heights, which will elevate the company as a whole.