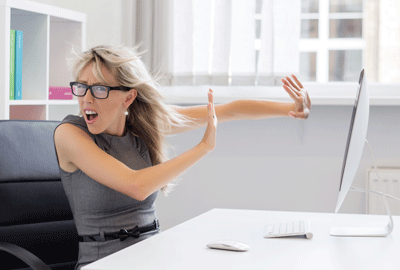 If you use sales emails as part of your business, your conversion rates are likely very low – on average, conversion rates for sales emails are less than 2 percent. Sales emails are like vegetables: You need them, but most people really don't care for them.
But there are things you can do that will make people hate your sales emails, and a customer who hates your sales email certainly isn't going to engage with it. Here are some of the most common mistakes businesses make when it comes to sales emails:
You offer no value
Most people don't like straight sales pitches; this is the reason inbound marketing has become so popular. Sales pitches bring out the skeptic in most people, and they become wary of your claims.
To avoid this, you need to provide value with your sales emails. Include a content offer as part of the email. Use a white paper or eBook as your sales pitch, and invite a customer to visit a landing page to get the content. This transforms your email from a "sales email" to a "special offer." In reality, this is just semantics, but to a customer the equation has changed. Instead of you bothering them with a sales email, you've now made them an offer that will only require their contact information on a landing page. Essentially, the content is "free," in their minds. But for you, you've gained a valuable opportunity to turn the email recipient into a lead.
The customer already knows what you have to tell them
If I were to ask you what type of TV shows typically get higher ratings, new episodes or reruns, what would you guess? The answer is obviously new episodes, because most people don't want to see the same thing again. So why would customers want to get the same types of emails from you?
You need to vary your messaging and try new things. If you tout the same list of benefits or offers in every email, your emails will quickly get tuned out. Or worse, this person will unsubscribe or block your emails altogether.
Take the time to create different messages for your sales emails. Sure, most of them will probably get ignored anyway. But if you don't mix it up, pretty soon all of your sales emails will be ignored.
You're not testing
Just as most issues aren't black and white, most problems don't have a single, one-size-fits-all solution. What works for one company's sales emails isn't necessarily going to work for yours. That's why it's so important to test. Experiment with your messaging, the time of day you send emails, the length of emails, the frequency of emails – basically, anything that can be tweaked or altered.
One of the most common (and effective) tests for emails is the A/B test. Split your recipients in half and send one message to the first half, then a different message to the second half. See what works and what didn't. Adjust accordingly, and then test again. You need information to make decisions; as Sherlock Holmes once said: "Data! Data! Data! I can't make bricks without clay."
To read more, download our free eBook "Modernize Your Sales Process".