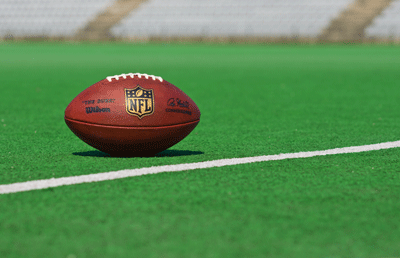 I'm a pretty big sports fan, which means that certain times of the year are just better than others – because of sports. For instance, February is what I like to call "The Least Wonderful Time of the Year." Football is over, baseball hasn't started, and all we have are basketball games to keep us entertained until the NCAA Basketball Tournament begins.
Conversely, September might be the best time of the year (although October is also pretty good). September brings us the kickoff of both the NFL and college football seasons, and I couldn't be more excited. My Cal Bears look poised to make some noise this season.
And if you haven't noticed, football is king in this country. Heck, ESPN has been talking about Tom Brady every day for months, and we haven't even had live football since February! Football is the most popular sport in America, and we don't even care about who's in second place.
If you're familiar with our philosophies, one of them is to never miss an opportunity for some marketing. And football season provides ample opportunities for great marketing, especially with social media. Here are three ways you can use football to increase social media engagement:
Follow the game with Twitter
If you're not active on Twitter, I think you should consider it, if only for the football season. For some reason, NFL games and Twitter go hand-in-hand. I suppose we all just want to talk about the action, and sometimes we don't have anyone to share that info with – so we just post it on Twitter.
However, since this has become the norm, Twitter is now extremely active during all football games. You'll find reporters tweeting info and stats, jokesters making silly cracks and elated/angry fans sharing their feelings. It's a bit chaotic, but it's very entertaining. So join in on the fun! Make your own comments about the game/the action/the commercials and retweet followers who are talking football. It's a great way to showcase the more human side of your company.
Post some friendly trash talk
Almost every sports fan enjoys a little trash talk and gamesmanship. And fortunately, most sports fans realize it's all in good fun and part of the experience. So feel free to post a little good-natured smack talk via social media. Is your company full of Packers fans? Take a little jab at the Bears and invite your Bears fan followers to respond in kind. Collaboration is always a great idea with social media.
Have your employees embrace the mayhem
Have you ever been in a casino during football season? A common occurrence is to see all the dealers wearing football jerseys. It's a small gesture, but it's fun. Why not invite your employees to do something similar?
Ask your staff to wear their team colors or gear on a Friday, then post some photos to social media. Or, if you have an employee with team swag on their desk or workstation, post a photo of that to your company Facebook. On social media, people aren't interested in hearing a marketing pitch; social media is more of an escape. So they'd much rather see your secretary in a 49ers jersey instead of hearing about your next sale.