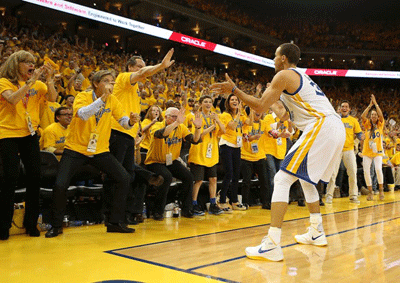 If you're a basketball fan living in New York, Los Angeles, Sacramento, Oklahoma City, Miami or Utah, then you are probably feeling pretty glum right now. The NCAA Basketball Tournament has been over for a while now, and your professional team is going to spend the next few weeks on the couch, just like you. But for millions of other basketball fans, this is one of the most exciting times of the year – the NBA playoffs have arrived!
Here in the San Francisco Bay Area, we're extremely enthusiastic for the playoffs to get underway. You may have heard that this is Warriors country, and our soon-to-be-league-MVP Steph Curry is getting ready to lead the electrifying young Warriors on a deep playoff run. We'll see you in the Finals, LeBron!
But enough about the "Splash Brothers". This is a marketing blog, and there is a marketing lesson to be had here. So allow me to present the three ways the NBA playoffs can help promote your business:
Have a playoff-related business promotion
This is a tale as old as time: local businesses will use any excuse to curry favor with their customer base, and that naturally leads many of them partner with members of the local sports team for promotional purposes. Sometimes it works out great; other times, not so much.
You might not be able to get an NBA star to visit your business (Curry's people still won't return any of my calls), but that doesn't mean you can't get in on the action. Create a promotion tied to the team's success, such as a sale every time the local team wins a playoff game. Or if you're feeling brave, offer to give something to customers for free if your team wins the title – just be prepared to pay a hefty price if that eventually happens. One opportunistic furniture dealer had to learn that the hard way, after offering free furniture if the Seahawks won the 2014 Super Bowl. That poor sap ended up losing out on $7 million as a result of Peyton Manning's continued playoff struggles.
Exhibit some local pride on social media
I'm going to make a presumption about your business: if you live near an NBA team that's in the playoffs, you have some fans of that team on staff. And if you have some fans on staff, they're probably already polluting their social media sites with tons of team-related photos, posts, stories, links, etc.
But I'm not here to discourage such activity – on the contrary, I want to encourage it. Get everybody in the office in on the action. Ask your employees to show their team pride, even if it's not for the local team, and then post pictures on social media. Not only will it delight your followers, it will also make your business seem like a fun place to work (which it hopefully is).
Get your followers engaged
You don't have to keep the social media fun to yourself, though; ask your followers to participate! Ask them to post photos of themselves supporting their team on social media and tag your business' account in the post. Then, share some of those photos with your followers. This won't do much for the bottom line, but it will be great for your social media reputation and can boost your follower numbers.
It doesn't just have to be pictures. Ask your followers who they're supporting, or if they've seen the amazing play that just occurred in a game that's currently airing. Anything along those lines is fine, so long as it gets them involved. Remember, social media is about collaboration, participation and fun – promotion is just one minor part of an effective social media presence.