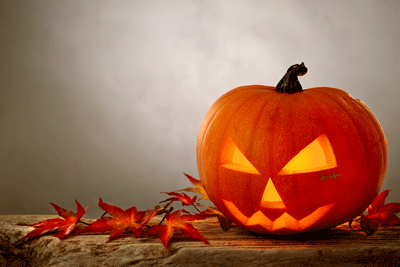 Halloween is a time for fun costumes, trick or treating and hearing "Monster Mash" and "Thriller" on the radio. But why can't it also be a time for good marketing?
Marketing can be a tight-rope act: you have to keep contacting your leads on a regular basis, while at the same time not irritating or overwhelming them. Halloween provides you with a legitimate excuse to contact them, which is always something you should take advantage of.
Here are some ways to capitalize on the Halloween season:
Use Halloween-themed sales emails
You can already picture the silly promotional subject lines now, can't you? "Scare up some savings before Halloween!" "You'll be positively spooked by our latest deal!" Yes, they are a little goofy and gimmicky. Sure, some customers might roll their eyes. But at least they'll have a reaction to your email. Most of the time, customers will totally disregard sales emails, simply because they're inundated with them. Anything you can do to get noticed is a good idea, even if a few customers might gag when they read the subject line.
Write a Halloween-themed blog(s)
No matter what field you're in, there's only so much that you can say about it. This makes constantly coming up with new blog content a challenge. Just like with marketing in general, you need to take advantage of every opportunity to do something different. So why not write a Halloween-themed blog? For example, if you're in the pest control business, a blog about the most frightening pests that can infest your home.
Change up your website/social media pages with some Halloween-themed stuff
If you have a graphics person working for you, or can play around with Photoshop a bit yourself, why not take the opportunity to temporarily change your site or social media pages? Add a jack-o'-lantern to your company logo for the month, or turn some buttons on the site into bats. It doesn't have to be fancy or elaborate; it's just supposed to be fun.
You can do the same with your social media pages. Change up the graphics to reflect a Halloween theme, and be sure to post some Halloween-related statuses and Tweets as well. If people in your office are dressing up for the holiday, you definitely have to post pictures on your social media pages. Social media is about interactivity and fun, and it's virtually guaranteed that your photos will be well-received by your followers.