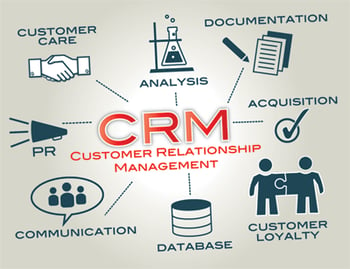 We are big fans of the HubSpot CRM for a multitude of reasons (which we're going to break down for you shortly). But perhaps the best thing about it is that it's currently free! That's right: if you're already a HubSpot subscriber, you get access to their CRM completely free of charge. And if you've paid attention to what I write on the blog, you know that being a HubSpot subscriber is a great way to maximize your company's marketing potential. If you're a marketing professional, there's simply no better tool for you right now than HubSpot.
But you didn't come here to learn all about HubSpot; you want to know about the CRM. Well, here are four features you can expect from it:
Contact potential leads directly from the CRM itself
One of the biggest reasons to utilize a CRM is to prevent losing track of leads – if you put all of the leads into the CRM, then you'll be able to keep tabs on them. And once salespeople start contacting the lead, it's very important to make a note of it; otherwise, you could be needlessly bothering some poor lead because of miscommunication on your part.
Fortunately, HubSpot's CRM avoids that problem by allowing you to send emails to the lead or even call them directly from their contact page in the system. That way, the interaction is automatically recorded in the CRM so there won't be mix-ups later. And if you pay for premium features, you can even record the call with the CRM software.
Email has never been slicker
I might enjoy writing blog articles, but I don't like writing sales emails too much. Fortunately, the CRM comes equipped with email templates you can adopt, so you can whip up follow-up emails quickly. Additionally, you can track those emails, which will alert you whenever they have been opened by the contact. And if you integrate HubSpot's Sidekick extension with the CRM, you can even schedule emails to be sent out to leads at predetermined times.
The layout adapts to your needs
Not everyone processes information the same way, which is perhaps why HubSpot allows you to customize your CRM layout. You can filter records, add custom fields and even save multiple different views. The CRM also provides a space for "deals," so you can keep track of specific possible sales and their progression.
Social media integration
Are you socially inept? I'm not talking about being shy, I'm referring to social media. Well whether you're a Facebook fanatic or Twitter twit, the CRM will allow you to integrate social media information very easily. In fact, whenever you add a contact into the CRM, the system will automatically scour the web for public Facebook or Twitter profiles. And if such an account is found, it will be added to the contact's record in the CRM. That gives you an additional medium to use for reaching the lead.