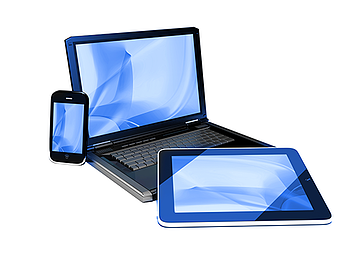 When is the last time you used your mobile device to go online? Most likely, it hasn't been long at all – if not today! According to recent findings from the Pew Research Internet Project, 68% of Americans use their mobile devices such as smart phones or tablet computers to go online. Obviously, the need for a responsive, mobile-friendly website is becoming increasingly important.
Responsive design means a website responds correctly when displayed on mobile devices. No more endless scrolling, zooming in and out, and clicking on links you don't mean to click on. Responsive design ensures the user will have a pleasant, user-friendly experience when viewing your site via these devices.
So, is your company's site responsive? If the answer is no, here are just a few reasons why it should be.
Most Businesses Are Starting to Implement a Responsive Website
If 68% of American mobile users are surfing the web via their phones and tablets, then odds are a large number of your target buyers make up a portion of that group. More and more businesses every day are figuring out that responsive design is the way of the future – or, more accurately, the way of the present. Your competitors are learning the same thing that you are about responsive design. Now you just have to decide who will be the first to benefit from it.
People are Surfing the Web Non-Stop
Now that Internet use via mobile devices is so prevalent, people are on the web literally all the time. Sitting at a fast food joint waiting to pick up their dinner, in the theater before a movie, while watching TV, even the very minute their alarm goes off in the morning – people are constantly on their phones, and the majority of the time they are online.
If your site isn't responsive, these mobile users will be missing out on any great content you might have out there. Nothing is more frustrating than trying to view a site with text that is too small or links you can't click. The majority of the time a user will simply leave and look for a different site. Don't miss out on all of these promising leads simply because your site is difficult to view!
One Site is Better – and More Cost Effective! – Than Two
If your website is responsive, then you don't have to worry about having a separate, mobile-friendly site built and maintained. This cuts the workload in half, and saves you a big chunk of money in the process.
Also, a site built specifically for mobile devices often leaves out a large portion of what is found on your normal website – meaning mobile viewers aren't seeing everything that you have to offer. It can also help with your SEO efforts, as all of your web traffic is going to one place rather than two.
You Are Missing Out on Sales
More and more people are actually making purchases via their mobile devices all the time. Recent figures estimate that more than half of all online purchases are made via smartphones or tablets rather than traditional PCs. Let that sink in for a minute. More than half! If your website isn't responsive, that is an incredibly large number of potential sales you could be missing out on.
As you can see, with the rise of mobile Internet usage being what it is, it's imperative that your site be responsive. As a business owner and marketer it's up to you to make the buying process as easy and pleasurable as possible for the consumer. And today's consumer wants to do their research, decision-making, and even their purchasing, on their mobile devices. There's no better time than now to ensure that your site is ready for it's mobile audience.