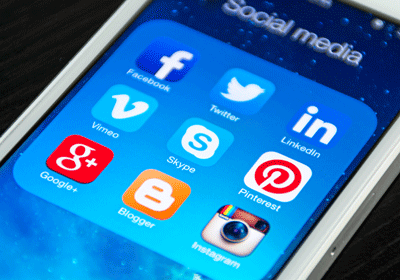 You might be discouraged from using social media yourself. However, using social media as a business allows you to find new fans, connect with current customers, and even generate leads. And since your business doesn't have any slacker ex-boyfriends to deal with, you're spared from any drama or theatrics.
Of course, there are still dangers to be encountered. There's the ever-present threat of spam, and allowing interaction on your accounts (a must) means there can be an occasional argument in the comments section or offensive remark posted by a follower. But as a business, you're in complete control of your social media accounts. If someone steps out of line, simply delete the post/message and block them if you must. It's that simple. Then you can feel free to take advantage of everything social media has to offer a business.
Here are four ways to use social media to your advantage as a company:
Be opportunistic with the latest trends
This is especially relevant for Twitter. Many Twitter users are interested in what's "trending"; which basically refers to what's popular on Twitter at a given moment. You can always see the trending topics or hashtags, both on your browser and the Twitter mobile app. Smart social media managers take advantage of trending topics, usually by finding a way to relate them to their business or products. Here's a good example from Hot Pockets, which exploited the #FoodieBandNames hashtag with a reasonably clever Tweet:
Provide customer service
It's becoming increasingly common for customers to reach out to brands via social media when they have an issue or question. They do this for two reasons: 1. They're already on social media anyway, so it's convenient and 2. It allows them to publicly call out the company, which can encourage a response (and usually receives one). Respond promptly and effectively to customers who do this, and you'll give your image a boost. It allows you to display your commitment to quality customer service in a very public way.
Delight your followers
One of the central premises of inbound marketing is "delighting" your customers. This spurs better relationships with them, and also increases the chances they become promoters for your company. Social media is an excellent venue for bringing some delight. You can accomplish this by posting fun, silly content on your social media accounts, or simply by interacting with customers with a tongue-in-cheek attitude. DiGiorno Pizza is great at this: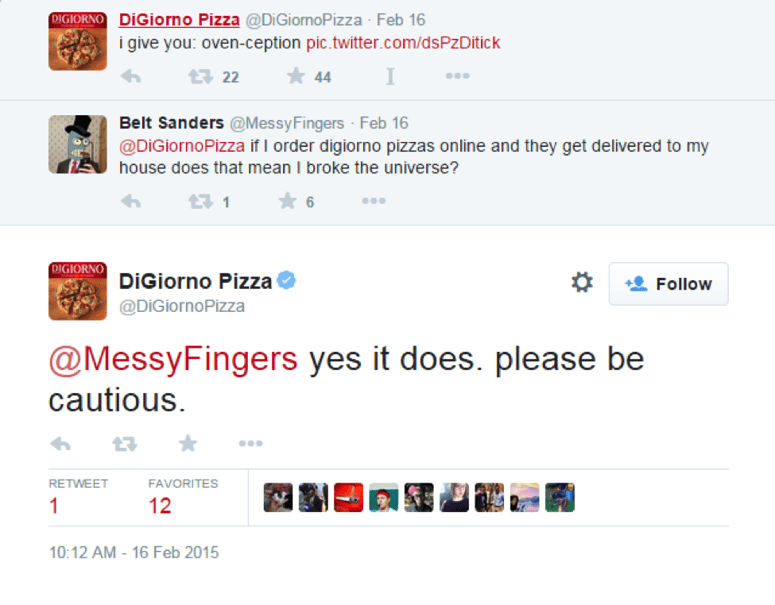 Promote your products/services
This is the last entry for a reason: social media is not primarily about self-promotion. While it's true that self-promotion is the reason behind using social media in the first place, your social media activity should be diverse and interesting. People use social media as a distraction, to entertain themselves when they're stressed, bored or procrastinating. The last thing they want is to see endless self-promotion from brands they've chosen to follow. It's OK to post occasional product information and notices of special deals or sales, but don't overdo it. You have to represent value to your followers; otherwise, they're going to become ex-followers before you know it.