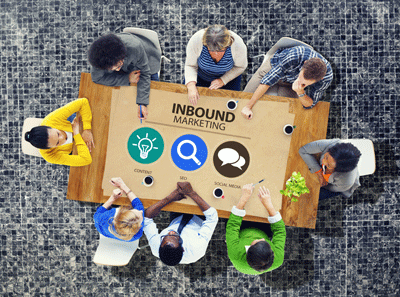 If you're a small business owner, you are undoubtedly faced with many challenges. Certainly not the least of these is the question of how to attract customers, when you don't yet have the visibility or brand recognition of larger, more well-established companies. There are lots of different channels of advertising and marketing to get your brand name out to the public, but which of these will be the most effective for you?
Assuming you've done some research about current marketing methodologies, you've likely heard of inbound marketing. But since a lot of the inbound marketing success stories you may have come across relate to bigger businesses, you may be wondering whether it's a good choice for a your business. Let's take a look at a few things you worth considering as a small business owner.
1. Inbound Marketing Is A Process
Unlike traditional "outbound" marketing, which goes after customers with methods like direct mail and telemarketing, which most consumers are turned off by, inbound marketing is an integrated process. The process begins with attracting customers to your website through relevant content that they're interested in, and then converting them into leads and ultimately into buyers. Since 2006, businesses of all sizes have enjoyed great success by implementing a well thought out inbound strategy.
2. Inbound Marketing Is A Partnership
One of the ways in which inbound marketing differs from old school marketing methods is that from start to finish, the process should be a partnership with an agency that understands you and your business. Back in the 20th century, yellow pages advertising was considered the best way to get visibility for your company, since that was the first stop for most people when looking for a local product or service.
But in the digital age, the old approach of "hanging out a shingle" in a print publication that's updated once a year is no longer relevant. Most consumers will start by doing an online search as their first step when looking to buy something. And that's where an inbound agency can provide unsurpassed value to you as a small business owner. Marketing experts understand your needs and your business offerings, and will work with you to tailor a strategy of providing interesting content to attract to your potential customers to you, and ultimately to convert them into buyers.
3. Inbound Marketing Rewards Persistence
While inbound marketing is an extremely effective methodology, don't expect overnight success, and don't give up if you don't immediately see the results you're hoping for. As you come to understand more about the inbound process, you'll see that its effectiveness increases over time. This is a departure from traditional methods of marketing which interrupt your potential buyers, in which every ad, call, or message is a new event, and has to be created freshly each time.
Inbound marketing centers around building up a library of resources, including white papers, blog posts, and other content. If properly planned and designed, this content will be interrelated and cross-linked. It should not only continue to attract buyers who are interested in your offerings, but will also continue to give you constantly increasing credibility as your content library grows.
4. Inbound Marketing Can Work For Any Industry
Don't make the mistake of reading a few inbound success stories for different types of business, and concluding that this won't transfer over to your business. Since this method is based on attracting customers who are interested in what you have to offer, a well-planned inbound strategy can work for any business, as long as you provide informative content that's of interest to your prospective customers. Even a so-called "boring" industry can be an ideal candidate for an inbound marketing plan, since consumers may be uninformed about what you do, and you get to choose what is the most compelling content to put out.
As a small business owner, you can certainly benefit from an inbound marketing strategy. Feel free to read more about the methodology on our blog, and don't hesitate to reach out to our experts for some hands-on assistance.