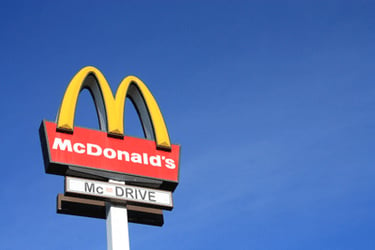 In today's world, virtually every business is trying to create a distinct brand. Not only does a standout brand allow you to establish yourself in the market, it also makes your company memorable to consumers. And brand recognition is a huge part of having success in the modern age. For example, if I say "golden arches," what immediately springs to mind? For most people, this will conjure up images of McDonald's signature logo – that's some powerful branding.
It's unlikely you'll be able to achieve the kind of resounding success McDonald's has, but that's perfectly OK; they've been around for decades and have spent a lot of time and resources to ensure their brand is recognized around the world. But you can still establish a distinct brand that can help boost your market share if you follow these four tips:
Take some time to reconsider your logo
Whether you currently have a logo or not, you should consider opting for a more visually striking logo. Just think of how many logos have become forever associated with the companies they represent: those golden arches from McDonalds, the Nike swoosh, the Absolut Vodka bottle silhouette. You want your logo to have that kind of potential.
Establish a pattern and color scheme for all of your business materials
Once you have your logo in hand, ensure you have a specific look for all of your marketing materials. Choose a color scheme to dominate your signage, marketing materials and company letterhead. You should also consider a secondary logo, and a specific font to use to print your company name.
Keep your branding consistent across all platforms
Now that you've established a set pattern and color scheme, you should use them both as much as possible. But more importantly, don't ever deviate from these formats. Strong branding requires consistency – if you repeat the same colors and logos in every place, they will become forever linked to you company in the minds of customers. Ensure your branding is consistent on your website, social media pages, internal memos, marketing materials, etc. Basically, anywhere your logo or company name appears, it should look identical to your original concept.
Create an identity for your brand
Your brand needs to stand for something, so that consumers will associate a certain lifestyle or idea with it. This doesn't have to be a serious idea – you're not trying to affect social change here. You just want your brand to have some sort of identity, so that consumers view it less as a brand and more like an individual. For example, Pepsi has tried for decades to associate with young people. Nike epitomizes athletes who outwork and outhustle their opponents.
It doesn't matter what you choose for your brand's identity, just ensure it makes sense. For example, if you produce denture adhesives, you're not going to want to associate your brand with young people. Your brand's identity should also be striking but refrain from being controversial or offensive. You want your identity to make your brand memorable, not exclude or discriminate against a certain part of society.