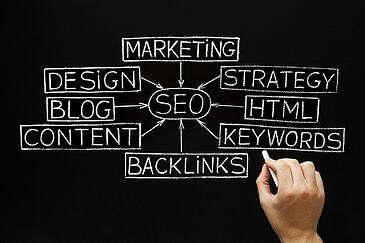 If you are hoping for your business website or blog to show up on the first page of Google for a particular search term, it's important to acknowledge that you're going to need to put in a bit of time and effort. While there is no exact formula to get to #1 on Google (and if there is, they aren't telling), there are a few things you can do to improve your odds. Take a look below for four tips to help you show up on the first page of the Google search results that you care about.
Create Quality Content
In basically everything that you do online, content is king. Without quality content it is highly unlikely that you will show up in the Google search results, especially not on the first page. And as unfortunate as it may be, the majority of online users will never go beyond that very first page of results. What this means is if you aren't already regularly updating your website and blog with relevant content, it's time to get started.
Begin creating blog posts that answer questions and provide information that you know your target consumers need. Update frequently, but consistently. Choose a blogging schedule and stick to it. If updating three times per week makes sense for the time you have available, then be sure to update consistently three times every week.
Use this content to speak to your target consumers and convince them that you are an authority in your industry. The more valuable information you put out, the more they will begin to see you as a leader and someone they can rely on for answers. This will encourage viewers to come back again and again.
Choose Keywords Wisely
When you set out to begin creating quality blog content, you will first need to determine exactly who your target buyer is and what they need from you. Use this information to develop your keyword strategy. Focus on keywords that aren't incredibly competitive so that you can rank highly for these terms more quickly.
For example, if you own a café in Memphis that specializes in breakfast, then your first reaction might be to choose "breakfast café Memphis" or "breakfast food Memphis". However, every other breakfast café will do the same. The trick is to figure out what breakfast lovers in your area will be searching for when they go online. It could be "best places for biscuits and gravy in Memphis" or "best eggs benedict Memphis". Really, the possibilities for what your target customers may search for are endless.
This is a great way to come up with fun blog topics, and also to shoot up to the top of the search engine results quickly. Since these words aren't near as competitive, by writing a few blog articles focusing on these specific terms you could easily make your way to the first page of Google.
Follow SEO Guidelines
After you've determined what keywords you will be targeting, it's important to follow search engine optimization guidelines. While there are many extensive things you can do for your website and blog when it comes to SEO, there are a few simple things you can do to make a big impact.
Use the keywords you are targeting throughout the body of your content wherever it makes sense. Be careful to not overdo it, though, as that can result in "keyword stuffing", which Google frowns upon. They may even banish your page to the bottom of the search engine results.
You should also use keywords in the titles of your blog articles and in the headline of website pages. Plugging them in to your alt and Meta tags as well as your URL when possible can also do quite a bit of good.
Take Advantage of Social Media
At this point you should be well aware how important social media is for the online presence of your business. If you aren't already on Facebook, Twitter, Google+, and LinkedIn, now is the time to join. While social media has previously not been as important for business, today it can be incredibly beneficial.
Use these places to promote your blog content. Update your page every time a new blog post is published, and use the keywords in your descriptions. This can bring new viewers to your blog, which could then drive more traffic to your website. You want to keep consumers interacting with your brand as long as possible.
Another benefit is that your actual social pages may begin ranking for your target keywords as well. Think of it this way: do you want to rank number one and two for your chosen keyword, and then have your competitors take up the rest of the page, or would you rather have your blog, website, Facebook, LinkedIn, etc. dominate the entire page? Obviously the more online real estate you take up, the better. When consumers see you in the top five search results for a particular keyword they will consider you the obvious choice.
By following the four tips above you will be ahead of the competition. These simple steps will allow you to move to the first page of Google for a variety of chosen keywords. All it takes is a bit of work and a little of your time – and the results will be well worth it. To read more on this topic, download our free eBook "How to Rank #1 on Google".