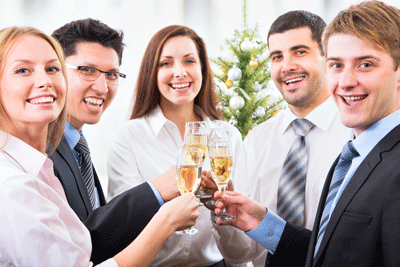 The holidays are a wonderful time of year, where friends and family get together to eat big meals and exchange gifts. But it's not always a great time for employees. Business is usually slow, and offices are often half-empty as employees seize the opportunity to take vacation time. To help keep your employees' spirits up, consider these four tips:
1. Invest in some holiday treats for the breakroom
There's something about the work environment that makes people love free food. Office workers will become unnaturally excited over company-provided lunches, refreshments – heck, they'll even devour muffins leftover from a morning meeting. ESPN's famous "This is Sportscenter" campaign even parodied this phenomenon in a commercial.
Therefore, buy some holiday treats for your employees to partake in during their breaks. Maybe some holiday cookies, or some coffee and donuts a couple of times during December. It may seem like it is not a big deal, but a small gesture like that can go a long way for the happiness of your employees.
2. Have a holiday party
A holiday party combines the benefits of free food with socializing – and maybe a little bit of beer and wine, too – and your employees will love it. Coworkers spend 40 hours together every week, so friendships and camaraderie naturally develop. A holiday party gives them the chance to hang out with their favorite coworkers on the company's dime; what's not to like?
3. Give out a holiday bonus
The Christmas bonus used to be a mainstay of the business world, but fewer companies are giving them out these days. It's certainly not a cheap benefit to provide for your employees, but you can be sure they'll appreciate it. Employees with families will be especially pleased – they have a lot of presents to buy and mouths to feed, so any additional money is a welcome gift at this time of year.
4. Give them Christmas Eve off
This is an easy one, but take it from someone who's had to work on Christmas Eve for the past three years (not at this job!): employees hate it. Also, most executives and senior managers aren't around that day, so how much work do you really think gets done? Bite the bullet and let your employees spend the day wrapping presents instead of milling around the office.