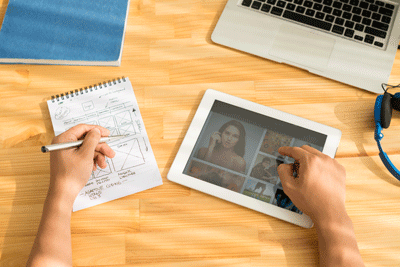 Creating a business website is a unique challenge in the modern world. There are so many goals that people want to accomplish – create value, interest the customer, provide contact information, generate leads – while at the same time presenting a smart, attractive website that visitors enjoy spending time on. As you can imagine, that can be quite a tall order.
Maybe you're here because your website just isn't getting the traffic you would like; or perhaps it's time for one of the many redesigns your website will undoubtedly go through. Regardless of what brought you here, we want to help. So keep reading to find out four ways to create a business website that people want to visit:
Provide content without pressure
This is a central tenet of inbound marketing, which we practice here at Rhino. When you provide blog articles and content offers to visitors, they appreciate the information – especially if you don't ask for anything in return. Within inbound marketing, our goal is to attract and inform visitors without asking for anything from them. Sure, we hope that they'll be enticed to listen to our sales pitch after reading an article, but it's not mandatory. And customers appreciate the lack of pressure.
Integrate with social media
Most of the people who use the internet frequently are also active on social media, and they like the ability to integrate anything into their Facebook feed or Twitter timeline. It's a nice touch that can actually encourage visitors to help promote your site (by sharing your content via social media). You should have social media sharing buttons on every webpage.
Prioritize the user experience
Nobody likes a website that's hard to navigate, but it's especially problematic for a business site. If a visitor can't figure out how to get around the site, they will become frustrated and could possibly leave. Even if they stay, does anyone want to deal with a customer in a foul mood? Save yourself (and your visitors) from heartache by making your site easy to navigate. And always ensure your visitors know how to reach you – if they can't, how will they ever make a purchase?
Keep the website up to date
You don't have to remodel the site constantly (although most business sites are remodeled every 2-3 years, on average); just be sure nothing gets forgotten. Don't allow missing graphics or badly-sized images to persist, and fix broken links immediately. Additionally, keep the content as fresh as possible – we recommend updating your blog at least three times per week. If you aren't dedicated to keeping your site in tip-top shape, then visitors will take notice and start to wonder. If you're so careless with your website, which is the online face of your business, then where else are you lacking? In what other areas are you careless?
Don't allow your visitors to think poorly of you. Keep the site looking great, so visitors will continue having a great opinion of your business.