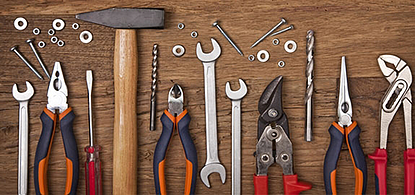 HubSpot's Content Optimization System (COS) is the first integrated online marketing system to be optimized for every device you own. Through the COS, you will be able to deliver to your customers the most personalized web experience possible, no matter what device they are using. The great thing about this software is that it contains every single thing you need to create a successful inbound marketing strategy.
HubSpot offers a variety of tools that will enable you to carry out the most advanced, successful marketing campaigns you can dream of. Take your online marketing to the next level with the following tools:
Blogging
You might be wondering, what's the big deal about blogging, anyway? It seems like everyone is talking about it these days – but for good reason! Businesses that blog average 55% more website visitors than those that don't. As a business owner, surely you can see the need for such a valuable tool in your marketing strategy.
Luckily, HubSpot has just the thing to get you started in the wonderful world of blogging. HubSpot's blogging software has social sharing and an excellent SEO tool built in. Another benefit of this blogging software is that it's optimized for mobile devices through responsive design. Google found that 60% of mobile visitors will leave a site if it's not optimized for their devices. HubSpot also gives you a preview of your content so you know exactly how your pages will look on these mobile devices.
You can also convert your traffic into leads through an all-in-one platform such as HubSpot Professional or Enterprise. These tools bring Smart CTAs into your blog posts and direct your traffic toward the appropriate landing pages for conversion.
Finally, you can measure your blogging success through your blog analytics. Find out which posts generate the most views and comments so you can consider this when creating content going forward. You can also view and analyze RSS and email subscriber rates to get a clearer picture of who exactly is reading the content you're putting out.
SEO
Search Engine Optimization is an essential aspect of your online marketing campaign. SEO is a part of every single thing that you do with the HubSpot tools. You're able to research keywords and track competitors, and even receive valuable SEO suggestions as you write. You'll be alerted of any SEO errors immediately, with clear instructions on how to fix them.
HubSpot does the tough work for you, by identifying high-volume, non-competitive terms that you can easily optimize for. This will allow you to attract valuable traffic to your site. You can also view which of your pages may be poorly ranking and receive suggestions on how to improve their SEO.
Your SEO efforts directly tie in to your overall plan to attract, convert, close and delight your potential clients by assisting you in creating the most valuable, keyword-friendly content possible.
Landing Pages
With HubSpot's tools, you can create powerful, personalized landing pages to increase conversions and excite your customers in three simple steps. Whether you will be using a template from HubSpot's library or creating a page on your own through template builder, the job is easy.
There is no coding required, and no need for developers to create a responsive site. Any landing page created is automatically optimized across all devices. Never miss an opportunity to engage and convert a lead. All landing pages are optimized for the best mobile user experience possible, which will naturally initiate more conversions.
Email
A unique aspect of HubSpot's email software is that it helps you grow subscribers over time through integration with content tools, rather than simply allowing you to upload a subscriber list and push content out to them. Your emails will be created in a responsive design that will be easily viewed on all devices. Yet another benefit to the email software is that your email analytics are integrated with the rest of your analysis tools.
In three simple steps you can create and send a truly targeted email to your distribution list. First, select a template. Or if you would like something a bit more custom, you can build your own. Second, personalize your email so that recipients feel valued. Finally, choose your recipient list. Select to send now or at a scheduled time, and that's it! Sending emails has never been easier!
Analytics
To tie all the aspects of your marketing campaigns together, HubSpot has put all of your analytics in one spot with an easy-to-understand interface. HubSpot's analytics are incredibly valuable because they return detailed information for every single one of your marketing channels.
From landing pages, to emails, to CTAs and page performance, you're able to study the ins and outs of each and every tool you utilize. By viewing your dashboard you are able to see visits, leads & customers generated by your marketing efforts. With first-touch and last-touch reporting, you will learn exactly where your leads originated and converted.
Through integrated analytics, you are able to understand exactly how each of your channels contributes to your overall leads. At the Enterprise level, you can even create customized reports on highly targeted segments of your audience. This will allow you to see where your marketing strategy can be improved.
As you can see, HubSpot has a number of valuable tools to assist you in every aspect of your marketing efforts. With this assistance you can take your marketing campaigns to the next level and become an online leader in your industry. To read more, download our free eBook on "The Tool Kit For Launching a Successful Marketing Campaign."