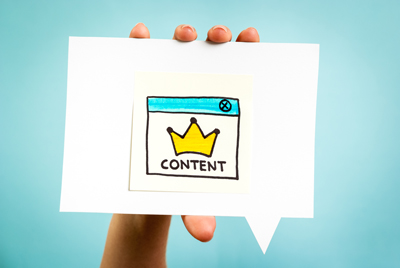 Increasing the amount of online leads you are bringing in is vital to the growth of your business. If your company is going to prosper, new business needs to consistently be coming through your (figurative or literal) doors. Working on building an impressive and engaging web presence is the simplest way to increasing your online lead generation. Take a look at the five tips below to get started.
1. Create Valuable Content
Creating content that your target buyer finds value in is absolutely essential to increasing online leads. The best way to go about this is to create a blog for your business. This is a great place to update your current and potential clients on what's new with your business and industry. It's also a good place to post informative and helpful articles for your consumer's convenience. Creating content that is engaging, educational, and keyword friendly will help you draw in new viewers as well as help you rank higher on the search engine result pages.
The main thing to remember when writing this content is that it should never feel like a sales pitch. This content should be helpful and informative, and nothing more. Of course you will direct readers to your website for more information or to a specialized content offer, but they should never get the feeling that they are being sold to. This can potentially turn customers away from your business and lead to missing out on valuable leads.
2. Engage and Interact
Your social media sites are a good place to build relationships with your past, present, and future customers. Consumers love feeling as if they know a business on a personal level, and social media is a fabulous way to accomplish this. Update your pages often with links to new blog posts, any new company information, fun videos or articles that you've found on the web, and really anything else you think your target buyers would enjoy. It's not about pushing your business 24/7, it's about providing something your customers want to see and developing a friendship of sorts. It's a given that people feel more loyal to their friends – the more loyal a consumer feels to your business, the more likely they will be to come to you when it's time to make a purchase.
3. Update Frequently
Consistency is key when it comes to increasing online leads. The more often you update your pages, the more value consumers and search engines will find in your content. If search engines see you updating your pages often with valuable content, they will begin to rank you higher and higher in their search results. This is a wonderful way to bring new viewers to your website or blog – which can directly result in valuable new leads for your business. Also, when you consistently post content that your target buyers enjoy, they will begin counting on you for this info. They will return again and again to gather the information you're pushing out. The more value they find in your content, the more likely they are to share it far and wide with their own friends and followers.
4. Offer Something They Want
Content offers are one of the absolute best ways you can find new leads online. Everyone wants something valuable for free, so creating this content and offering it in exchange for your viewer's contact information is a simple way to increase leads. Content offers can be anything you think your target buyer would find value in – eBooks, checklists, whitepapers, videos, and basically whatever else you think your target consumers would enjoy. The type of business you have will dictate what offers you create. If you own a luxury hotel, for example, you could create an eBook of the "10 Best Travel Tips", a packing checklist, or a video showcasing the best places to go in your city.
5. Ask For The Info
You aren't going to return many valuable leads without asking for the contact information you desire. Including capture forms on your website, landing pages, and blog is the best way to get that information that you need. When promoting a content offer, include a capture form that the viewer must fill out before downloading their free content. After an informative blog article, include an email newsletter sign up form. Anytime you see the chance to request the contact information of your online readers, do so. It never hurts to ask!
As you can see, increasing your online lead generation doesn't have to be a difficult process. By following these five steps you should quickly see a change in the number of leads you are seeing. Leads gained in this way are often much more valuable than those obtained through traditional marketing methods, so put in the time and effort and you will be greatly rewarded! To get a more in depth look, download our free "Guide to Online Lead Generation for Business Owners" eBook.