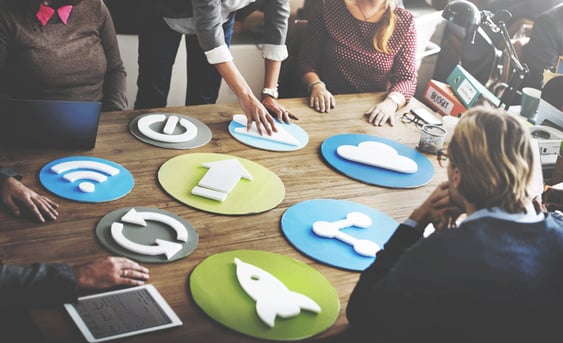 You don't need to do a lot of reading of business blogs (including this one) to get the idea that there is a significant trend towards outsourcing your digital marketing efforts rather than try to manage them internally. Here at Rhino, we refine that recommendation a little further, and suggest that you'll do best to work with an agency that partners with HubSpot. There's a lot out there that has been written on the subject. To make it perfectly clear for you, here are some of the benefits of working with a HubSpot Partner.
Cost savings
Marketing is an extremely important function, and I don't recommend that you adopt the cheapest solution you can find. But for a growing company, cost is extremely important, and can't be overlooked. In comparison with maintaining an internal marketing staff, outsourcing your digital marketing will save you a ton of money. Employees are expensive. You've got to carry their salary, plus benefits, and there is a hefty load of overhead expenses and intangible costs due to productivity issues, turnover, recruitment time and expense, and more. Contrast this with an outsourced model. When you contract an agency to manage your digital marketing, you'll be hiring them to provide a certain level of service, and you pay for just that. No hidden costs. No surprises. No intangibles.
Top Shelf Professional Expertise
I'm going to assume for the moment that, whatever it is that your company sells, it's not digital marketing services. If I'm mistaken, you can skip this section. The point that in today's business world, the smart money's on outsourcing any functions that aren't part of your core competencies. I have no doubt that you're extremely skilled your field. Your marketing campaigns deserve to be handled by people with the same level of expertise at what they do. When you outsource to a HubSpot partner, you'll be assigned a fully-staffed crew of seasoned digital marketing experts. And, since this is their field of expertise, you can be sure that they're familiar with the processes, understand what you need to accomplish, and know the best methods to get you to your goal.
Continuity
A digital marketing program can only be successful if there's a consistent, sustained effort. When you hire a marketing professional to work in-house, that level of continuity is going to be difficult to achieve. Employees are humans, and they need some down time periodically. There are going to be sick days, vacations, and rush times when you need to redeploy your staff members on some urgent business. Those leave dangerous gaps in your marketing efforts. For example blogging, an essential element in a content marketing program, needs to be done on a regular basis. If your blogging suddenly slows down, you'll not only lose momentum, but your search engine ranking is likely to slip as Google notices your lack of fresh content. Outsource the work to a group that will keep your marketing efforts moving constantly, and you'll reap the benefits of a continuous, uninterrupted campaign.
HubSpot has become almost synonymous with Inbound Marketing
Digital marketing can take many forms and includes a variety of methods. Many old-school advertising methods, like Yellow Pages ads, and other intrusive methods of advertising, simply aren't effective any more. Today's consumers are too busy to be bothered with marketing that interrupts them, and takes their attention away from what they're focused on. They're also too savvy to be susceptible to those methods. Everyone throws junk mail away, unopened. We use caller ID to screen out unwanted marketing calls. We've learned to delete email solicitations without reading them, and many of us use high-powered software to automate that process. Those are the outdated "outbound" methods. You'll be most successful today if you utilize inbound marketing methods, those that attract customers to you, rather than pushing yourself on to them. Once you see the value in the inbound methodology, it becomes a no-brainer to work with a HubSpot Partner. It was HubSpot's CEO and co-founder, Brian Halligan who coined the term back in 2005, and HubSpot has been the pioneer in the field of inbound marketing since then. It makes sense to work with an agency that's tied right in to the source.
Best available tools, technologies, and trends.
This could actually have been three separate benefits, but they all have a common theme. Digital marketing is a rapidly evolving field. It would be difficult for an in-house marketing professional at your shop to stay on top of it all. There is a constantly evolving landscape of software products to be used in the various aspects of your digital marketing efforts. Again, your in-house marketer won't have the time to thoroughly research and test all of those platforms, and smaller shops may not be budgeted for some of the fancier tools that are available. But for an agency that specializes in digital marketing, staying on the cutting edge is their business. The nature of their work behooves them to be aware of the latest trends in methods, as well as in tools. They've tested and thoroughly vetted all of the major software that's relevant to your efforts, and you get the benefit of that research and their investment, in products like the HubSpot system.
Rhino Digital Media is a Gold HubSpot Partner
We can't say enough about the virtues of working with HubSpot. We've found it to be the ideal platform on which you can manage every aspect of your digital marketing campaign. We only partner with the best, and we made the decision to become a HubSpot partner after extensive research showed that it's the best available marketing automation platform. We've gone a step further, and become part of the elite group of Gold Tier HubSpot Partners. The gives us a higher level of support from the folks at HubSpot, and you as a client benefit from that as well.
Give us a call to set up a consultation, at which we can show you how we'll supercharge your digital marketing and get you the results you deserve.