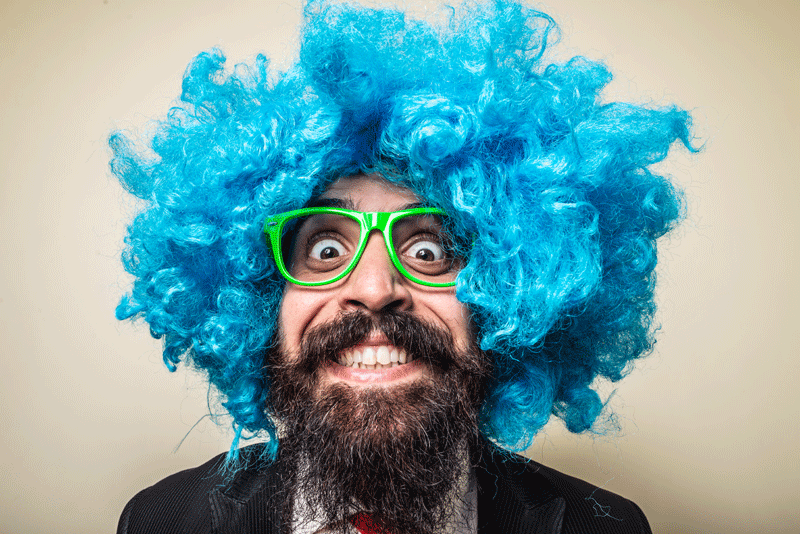 It seems like every business, big and small, uses social media in some form. Some are constantly posting to every known platform from Facebook to Snapchat, while others will occasionally post a new update on Twitter every 6 months. Regardless of your personal opinions about social media, it's hard to deny its role in marketing, and it's something every business should consider using. Because of all the benefits, most platforms are extremely crowded, and therefore it can be difficult to stand out from the crowd.
In order to be heard, sometimes it is worthwhile to try out something different and unique. Social media is the perfect place to test out new ideas. It is generally not viewed as "serious" or "professional" (with the exception of sites like LinkedIn), and the audiences tend to skew towards the young generations, who are receptive to creativity and change. If you are looking for some inspiration, here are 6 of the most bizarre and original social media brands.
Twitter
1. Denny's
A great example of a weirdly successful Twitter account is for restaurant chain, Denny's. If you want to see a company that does not take itself seriously at all, this is it, and people love it. They are approaching 300,000 followers, and if you take a look at their silly tweets, you will see why. They take advantage of current events and trending hashtags, yet say whatever comes to their mind, no matter how odd.

Every tweet they post gets tons of likes, retweets, and comments. Most big companies are very careful with everything they post, while Denny's seems to be run by a young person with free reign. However, when you consider common customers of Denny's, teenagers and college students are the ones who come to mind. This strategy is perfect for their brand, but it would probably fail for many other companies.
2. Taco Bell
There must be something about chain restaurants and social media. Taco Bell is another example that is incredibly successful on Twitter. They have over 1.7 million followers and are constantly posting new and funny tweets. They make use of videos, polls, retweets, user generated content, contests, and anything else you can think of to promote their brand.

This example has no hashtags and no links or pictures, but people love it. Taco Bell truly understands what their fans want to see, and they do a great job of making that happen. Because their brand is already hugely popular with an almost cult like following, much of their feed is retweets of funny fan posts like "promposals" in their restaurants or drawings/art inspired by the brand. The more they retweet fans, the more fans want to tweet at them for the chance of exposure, which creates an ideal situation. If your fans see that you engage with them, they are more likely to engage with you!
Facebook
3. Old Spice
This deodorant and soap company has really turned around their business thanks to content and social media marketing along with memorable advertising. They consistently produce high quality videos and graphics along with unique campaigns for their products. Their Facebook page has over 2.6 million likes. Not only do they post oddball content, but they also use this site to respond to customer complaints or praise.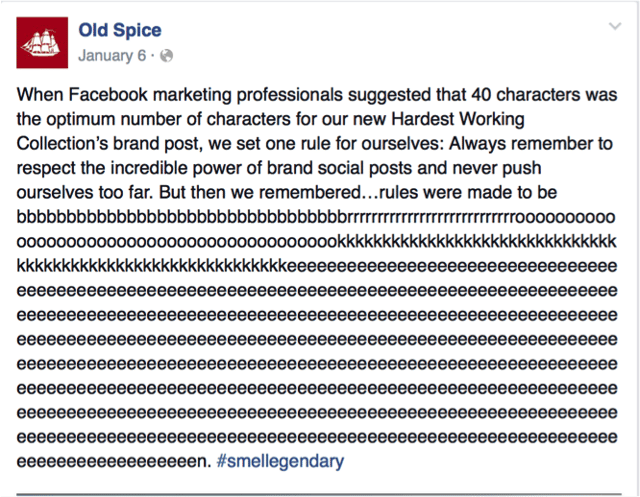 They have a recognizable brand voice that their fans relate to and connect with. They keep a consistent tone even when the posts have nothing to do with their company at all. Sometimes they just share random thoughts or photos, but these posts still get tons of love.
4. Pop-Tarts
The delicious breakfast snack also has a wonderfully bizarre Facebook page. They are approaching 4.5 million likes and with good reason. They share high-quality photos, videos, and animations, and they reply to tons and tons of comments on every post. They share fun ideas to try with their product, which prompt thousands of shares, and they announce new releases. Humor is a big part of the page and probably a big reason for its success.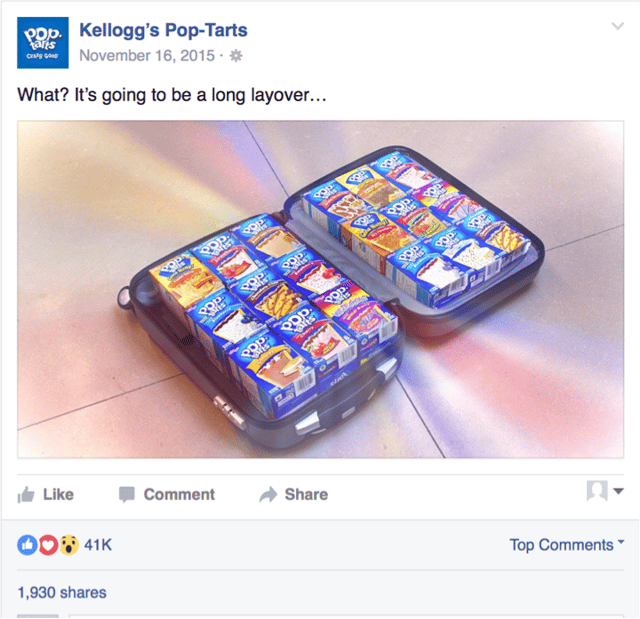 Unlike Old Spice, who often posts random things, basically every single Pop-Tart's post completely revolves around the product and promotion. Because they have a creative way of presenting it, followers don't get sick of the self-promotion. It is simply smart marketing.
Instagram
5. Oreo
Oreo is pretty well known in the social media marketing world for their innovative strategies and creative campaigns. Across all platforms, the classic cookie boasts huge following numbers and just all around quality content. On Instagram, they have 1.5 million followers when most brands struggle to get a couple thousand. It is a testament to their social media prowess and ability. They share awesome recipes, promote new flavors, and create unique photos. Here is part of an awesome series of photos for their Instagram account.

Who thinks of something like that? It wasn't specifically promoting anything in particular, yet these photos all received tens of thousands of likes. Oreo shows off the importance and power of creative thinking.
The airline is very active on Instagram and has a modest 143,000 followers. They post beautiful photos of the destinations where they travel, and they also put in some funny commentary. They also have a funny series of dog photos which they tag #JetPaws. They keep up with pop culture, trending hashtags, and come up with unique ways to highlight their brand. This post from is from May 4th, which is Star Wars Day.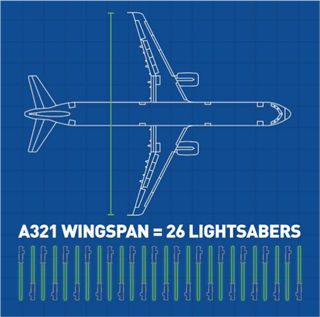 The fairly simple graphic communicates the message and was rewarded with a high engagement rate. It would have been easy to just post a stock Star Wars photo, but Jet Blue went the extra mile and created something relevant and clever instead.
Overall Lessons
Everyone is always telling businesses to jump into the social media game, but as more and more people join, it is less likely that you will be heard. It takes something different to stand out, and these six brands have hopefully shown you some ways to accomplish that. Humor is extremely important on social media because people generally visit these sites as a break from their day, but you need to consider whether your typical customers would appreciate that or not. If you are an accounting firm, for example, people probably expect a more serious and informative tone.
I think one of the most important lessons is to be creative and not afraid to take a chance. Don't always go for the predictable post. Try to come up with new and interesting ways to showcase your product or service.