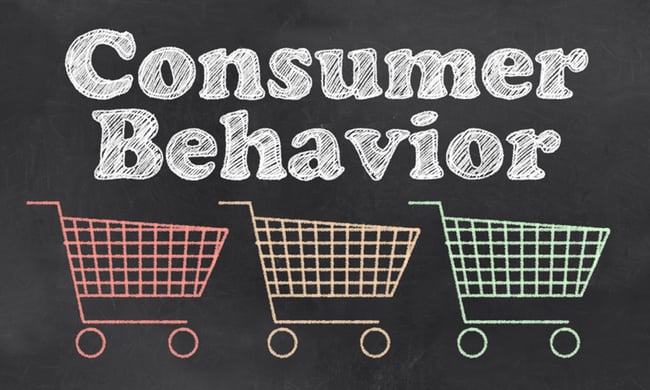 Advances in technology over the past decade or two have created a new world of shopping, and we can only expect this to continue to evolve in the coming years. Twenty years ago, we were barely beginning to imagine the possibilities of finding information online. Who would have thought that we'd be ordering products with just a couple of mouse clicks or taps on a cell phone, and seeing them delivered to our doorsteps the following day, or even, as there's talk of now, same day delivery by drones?
Consumers operate in a very different manner than they did in previous generations. It's important to have some understanding of modern consumer behavior so that we can market to today's buyers effectively. If you're looking to make more sales, you'll need to keep your finger on the pulse of modern consumers, and learn where, how and why they're buying. Let's take a look at some of the most current trends in consumer behavior and see how we can use this to improve our sales and marketing processes.
Everyone shops online. Or do they?
A recent study by BigCommerce and Kelton Global reveals a lot about how people shop and buy today. We can see a big clue about where this is going from the title of the report, "Modern Consumer Behavior In An Omni-Channel World". "Omni-channel" is one of those hyper-trendy buzzwords you may be hearing frequently if you read about marketing like we do. It refers to the idea that sales are made across different channels, both online and offline. Long gone are the days when the only way to shop and research about purchases was to drive around to different stores. In today's world, as the infographic shows, 96% of Americans shop online, yet 65% of their shopping budget is actually spent in brick-and-mortar stores.
What keeps people from buying online?
Despite the enormous amount of information available at your fingertips online, and the ease of making a quick purchase, more shopping dollars are still spent in stores. There are a variety of reasons why people are hesitant to make all their purchases online. 58% of buyers in this study mentioned shipping costs as a concern, and 34% expressed that they don't want to wait for delivery. Although most online retailers have improved their return processes, 34% of shoppers are concerned with difficulty of returning items that they're not happy with when they make an online purchase. And of course, lots of folks, almost half of those surveyed, just want to be able to look at and touch something before they commit to buying it.
OK. Then what does get people to buy online?
With all of those objections, how are any online sales being made? When we talk about modern consumer behavior, we can't overlook convenience. Between always-on internet access on our desktops, and mobile devices that keep us connected day and night, people are getting used to the idea of being able to access everything, everywhere, and always. 43% of shoppers surveyed say that they've made purchases while in bed, and 20% even admit to doing so while they're in the bathroom. Almost a quarter shop while they're on the job, 20% while they're on the road, and 10% shop after they've been drinking. Hopefully those aren't the same ones who are shopping on the road!
What can we learn from this?
As we said, it's a different world of retail sales these days. Buyers are no longer limited to a few choices of stores in their immediate vicinity, and they're not especially loyal to particular brands or even ways of shopping. Observing and studying trends in modern consumer behavior, which continues to evolve at a rapid pace will be crucial to succeeded in retail marketing. For example, since buyers are still concerned about shipping costs, delivery times, and return policies, online retailers need to be adjust their approach accordingly. Those retailers who can accommodate modern consumers' concerns by offering speedy delivery, easy returns, and cheap shipping, will do well in the coming years. It will be essential to understand the behavior and mindset of today's and tomorrow's consumers to achieve success in the changing world of retail sales.