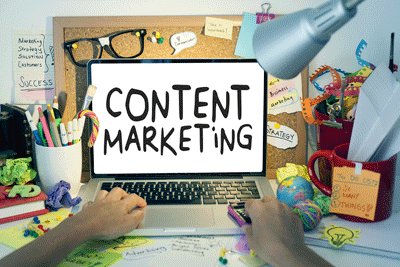 As you explore possible avenues for marketing, you're undoubtedly hearing about content marketing. And since you've found your way to our blog, I'm sure you've also heard about inbound marketing. These are two terms that have become something of buzzwords in the current marketing landscape, and there seems to be a bit of confusion surrounding them. And we're often asked whether an inbound marketing agency like us offers content marketing services. The short answer to this question is a resounding "Yes!". The long answer may be a bit more complicated, and we need to understand what each of these terms actually means.
Inbound marketing is a strategy or methodology. It's a departure from old school, outbound marketing, which is intrusive, and tends to bombard your buyers with emails and advertising to try to interrupt them, and get their attention. In contrast, inbound marketing focuses on attracting people to you and your products. This is done by catching their interest with high quality, engaging content, which starts them on the path to become a lead, and, hopefully, eventually become a buyer.
Content marketing is the art, or perhaps the science of creating and distributing that valuable content to the people who are interesting in the topics and could potentially become your buyers. It sounds similar, to inbound, doesn't it? In fact, there's been considerable discussion and even debate about whether content marketing and inbound marketing are, in fact, one and the same, or whether one is a subset of the other.
There seem to be some differences of opinion out there, but for my money, I'll go with the opinion of HubSpot themselves, as they were the pioneers in the world of inbound marketing. Based on a post on their blog late in 2014, they consider content marketing to be a subset of inbound marketing, while acknowledging that that description doesn't really tell the whole story. It's true that there are other activities that fall under the umbrella of inbound marketing. But really, content is the lifeblood of inbound marketing, and without it, there can be no inbound marketing.
So, after this brief diversion, let's return to the question at hand. Content marketing services are definitely offered by inbound marketing agencies. A good inbound agency will help you design and implement a content-based marketing program that's sure to get you results. They'll help you create content targeted to your audience that addresses their concerns and interests. And they'll help you get the content out to your audience through blogging, email, and social media posts, all structured to get your potential buyers to your website and convert them to buyers.