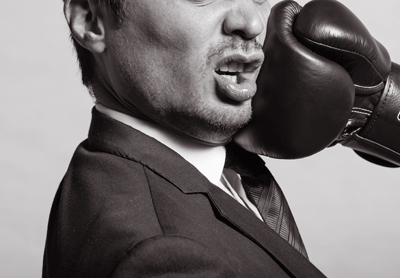 Here on our blog, we often discuss how difficult it can be in the sales department. You have a built-in 95+ percent failure rate (since the average lead conversion rate is under 5 percent) and you're the last person a potential customer will talk to, which means you're often the difference between a completed sale and a missed opportunity. That can be an awful lot of pressure.
That pressure can become unbearable if your sales reps aren't making strong connections with leads. Even worse, what if your sales reps are flat-out disliked by prospects? It might seem unfathomable for sales reps to become reviled by leads, but consider what a sales rep has to accomplish: they have to be friendly and accommodating while also being a bit pushy and trying their best to engineer a sale. It's quite a tightrope walk, and one that not all sales reps can successfully navigate.
If you find that your sales reps are having negative connections with leads, read on to find out how to keep those relationships civil and productive.
Be as upfront with the lead as possible
The modern consumer isn't that receptive to sales pitches, so it's natural for sales reps to downplay their true intentions during a sales call. However, the modern consumer also isn't stupid – they know what you're trying to accomplish. Therefore, you should be as honest with the lead as possible. Let them know that you'd like to sell them on your products/services, and try not to be disingenuous with your sales pitch. If both you and the lead know exactly what's really going on here (i.e. this is a sales call), then don't try to play it off. A lead will appreciate the honesty, rather than feel like their intelligence has been insulted.
Keep the pressure to a minimum
Pressuring a lead during a sales call is an old, reliable sales tactic, which can be successful; however, it's not a great way to make friends. Pressure works because it makes a lead feel uncomfortable, creating negative feelings and then exploiting those feelings. And if somebody makes you feel uncomfortable, you're probably not going to like them much, are you?
Therefore, try not to use pressure as a sales tactic. Pressure often creates a sense of urgency in the prospect, which is part of the reason we like to use it. If you still want to create urgency, focus instead on the "limited" nature of the offer or advise the prospect that you're not sure how long the current deal will last. Frame the conversation in a way that makes it seem like you're trying to ensure they don't miss out on a deal – that's a friendly gesture a lead is likely to appreciate.
Provide a little content
One of the great things about inbound marketing is the fact we have so much free stuff to give away. Sure, that "free stuff" isn't actually stuff; it's content. But if you're writing good content, then it's still valuable, and we can use it to entice prospects.
Your sales reps should have some content offers at their disposal that they can give to leads. That way, when they call a lead, not only can they have a pleasant, no-pressure conversation, your reps can also give the lead a piece of content to sweeten the deal. A lead will appreciate the freebie, and perhaps more importantly, won't have a negative opinion of your sales reps.