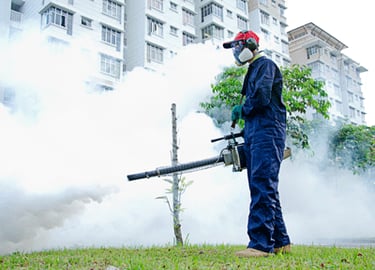 The question in the headline might seem odd, but if you take a moment to think about it, it's not so strange. How do most pest control companies advertise these days? The usual, boring methods: TV, radio, print. And while that can work, it's expensive and hard to quantify. For instance, if you see a small spike in business once a new TV commercial comes out, are you completely sure the commercial is the reason? How do you know that spike wasn't just part of the normal ebb and flow of business?
So just like many other small businesses, pest control companies need to expand their offerings and marketing efforts. The internet has become a permanent fixture in our lives, so it's time you start using it for marketing purposes. And in 2015, there is no better online marketing strategy than inbound marketing.
Can it work for pest control companies? Absolutely.
The proof is in the profits
Here at Rhino, we actually have two different pest control companies as clients. And although I won't name them (since I haven't asked their permission), let's just say they do some major business in California. These are long-established companies that were paying large sums of money to the yellow pages for advertising, and were downright miserable about the results. So when we arrived and told them that we'd not only boost their leads, but do it for cheaper, they were ecstatic.
So why do pest control companies benefit from inbound marketing?
It's very simple – we've become a society that's obsessed with "Googling" things. Having an argument with your spouse about how many seasons Friends was on the air? Just Google it (it ran 10 seasons, by the way). We do this for almost every question or conundrum now, and pest control is no different.
For many customers, as soon as they notice a pest problem they rush to the internet for answers. This is perfect for inbound marketing, because pest control companies can use their blog articles to answer those questions. And once we've brought them to the website, we can start turning them into a lead.
Word of mouth becomes more powerful than ever
For many small businesses, they rely heavily on word of mouth for publicity and new customers. My own favorite food truck, restaurant and sports bar all were recommended to me by friends.
Well, with inbound marketing, you can get word-of-mouth publicity on steroids. A strong social media presence is an integral part of inbound marketing, and you can use your followers to help prove your worth.
Ask customers to share your posts on social media if they're happy with your work, and invite them to make comments via Twitter, Instagram and Facebook. Keep in mind, you can't guarantee all of these comments will be positive, but if you value and respect your customers, then you shouldn't have anything to worry about. The positive comments will far outweigh the negative.