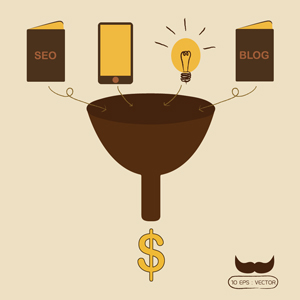 Creating valuable content offers is a major piece of the inbound marketing puzzle. As you've heard a million times before, content is king. The number one thing you have to offer to the potential consumers that discover you online is content that they find valuable. Content offers given in exchange for their contact information is an incredible way to bring in new leads.
But not every content offer can be handled in the same way. When you set out to begin content creation, it's important to note that you are speaking to many different consumers, in many different places in the buying process. Therefore, you will need to create content offers that speak to these various individuals. You should focus on creating bottom of the funnel, middle of the funnel, and top of the funnel content offers individually.
Today, we'll focus on defining what goes into a quality top of the funnel content offer. Those who will be receiving these top of the funnel content offers are typically in the first steps of their online research. They may not know specifically what they are looking for, but may have a broad general idea. They won't be ready to make a purchase quite yet, so the more education you can provide, the better.
These consumers that you are speaking to aren't ready to commit to your company or your products and services. They are simply seeking information to help aid them in their buying decision. So it's important that you don't require much from them in exchange for your content. Rather than asking for address, phone number, or any other info, leave it at just name and email address. They will be much more likely to leave this info. Require any more and you may lose them altogether.
The content you are offering should appeal to a broad range of potential buyers. This isn't the time to be incredibly specific or targeted. You should also avoid talking about your business directly. The information you're providing in these top of the funnel offers is purely for educational purposes. Provide an extensive overview of a topic that many different types of buyers would find interest in. Avoid making it feel like a sales pitch in any way. These offers can be in the form of eBooks, whitepapers, educational videos – basically, anything that makes sense for your business and the information you have to offer.
Your top of the funnel offer can lead into middle of the funnel offers whenever it feels appropriate, but you never want to "push". This can be a big turn off for those who are simply starting their research. No one likes to feel as if they're being pressured into a buying decision. Step back and provide valuable information in your top of the funnel offers, and rest assured that many of these viewers will return when they are further along in the buying process. To read more on how to generate leads through content marketing, download our free eBook titled "30 Hottest Lead Generation Tips".