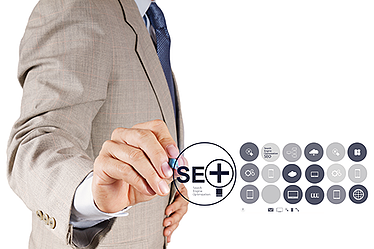 In any successful online marketing campaign Search Engine Optimization (SEO) will be at the very foundation of what you do. Without SEO you run the risk of your website existing without ever gaining the traffic that you want and need. Content marketing is another aspect of your online efforts that should garner a large amount of dedication and attention. For the ultimate online success, focus your energy equally on both SEO and content marketing.
The idea behind content marketing is simple. There are potential customers online every day, searching for services that your business has to offer. These online visitors are at all different stages of the buying funnel. Some are simply doing research, some are looking for answers to specific questions, and some are ready to find a business and make a purchase. Successful content marketing focuses on providing something for every one of these visitors.
Creating unique, informative blog posts and articles targeted toward these online consumers is a proven approach. Before starting your content marketing efforts, do your research. Find out who your target consumer is, what they need, and what they are searching for when they go online. Then take that information and write to them. Answer their questions and be there for them in whatever else they need. The more often they find your content in their search engine results, the more likely they are to begin to value your company. If they learn that no matter the question or issue they can come to you and you will have the solution, they will begin to view you as a reliable source of information. This will inevitably lead to them turning to your business when it's time to make a purchase.
But putting out this quality content won't lead to the success you're hoping for if you don't use SEO guidelines and best practices in all that you do. In your research you should determine the most valuable keywords for your company. These will be the keywords that the majority of your target consumers use when searching for the products and services that you have to offer. Some keywords hold more value than others, while some keywords are notoriously difficult to rank for. Spend a good amount of time determining exactly what keywords your business wants to target for the ultimate success of your site.
After you've narrowed it down to a handful of keywords to focus on, begin sprinkling these words throughout your online space. Not only should keywords be placed in the body of your content, which of course is important, but also in the headlines, the meta descriptions, and the URL whenever possible. Each location has different pull, but combined together the results can be excellent.
Content marketing without SEO simply could never lead to a great amount success for your website, meaning your online efforts would never be able to accomplish what you need them to. On the reverse side of things, SEO without great content marketing won't lead to true success, either. All SEO all the time isn't a good approach to online marketing. You need a combination of the two to truly achieve all that you hope and to find the true value in your site. Used in the correct way, a content marketing plan with a heavy focus on SEO can result in an incredibly successful blog and website for your company that will bring in more potential customers than you could have ever hoped for. To read more, download our FREE eBook on "Blogging for Business."