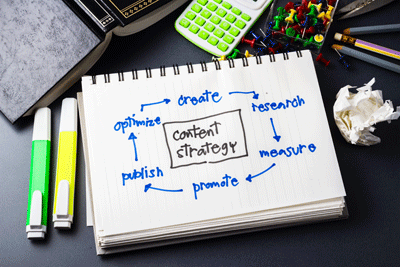 Prospects will always undertake a "buyer's journey." This process describes how a customer would complete a purchase for an item that fulfills a need. There are three steps to this process:
- Awareness: The buyer is aware of a problem or opportunity that can be solved with a purchase.
- Consideration: The buyer knows what the problem is, but is now searching for the best way to solve it.
- Decision: The buyer knows how they'd like to solve the problem. Now they have to decide who to purchase from and what specific product/service to buy from them.
Today we're going to talk about the consideration stage. The awareness and consideration stages are where buyers typically spend most of their time, and we find the consideration stage to be especially critical. Since the buyer is still trying to determine how to solve their problem at this stage, this is the time to convince them that your business can provide the solution. How do you do that? With persuasive and powerful content.
Before you begin: What problems can you solve?
You can't just start writing content and hope for the best; you've got to plan this all out. So start by determining what type of problems your products/services can solve.
For instance, are you running a catering business? Then the kind of problems you can solve include: providing food for a party/banquet/wedding/event; providing wait staff for those events; feeding large groups of people; etc. Web searchers are usually searching for the solution to a problem, and now you understand what kind of problems your business can handle.
Appeal to those looking for answers
Now that you understand what your business can do for these buyers, it's time to let them know. You need to use those problems from the previous section in order to settle on some keywords that match up. So if we return to our catering example, some of the most frequently used search terms will be "party" "banquet" "catering" "wedding," and the like.
You have to include those keywords in your blog headlines and throughout the blog articles. That will improve your Google search ranking for these words, which will help your site appear higher in search results.
Prove how you can solve problems
So now we've identified the problems you can solve and the buyers can find your site. What's left to do? Show those visitors how your products/services can solve those problems!
Write blog articles that will detail how a quality catering company can do things like cater a wedding for 200 people, or quickly prepare a menu for a corporate dinner. You'll be writing these articles about generic companies however, because you don't want to appear self-promotional. But those generic nameless companies are really just stand-ins for your quality business, so make sure you are capable of handling anything your nameless "quality company" can.
Ultimately, there are two goals with this "consideration" stage content: to show that your products/services can provide the solutions the buyer needs, and to make your company look like the best source for those solutions.