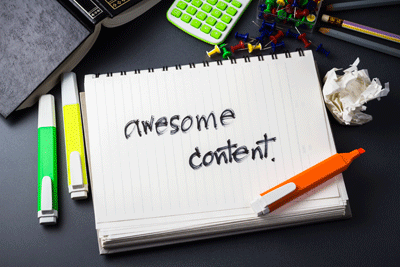 If you wanted to pin down the target audience for our blog posts, it would probably be "busy and hard-working business owners that understand they need to invest in online marketing but don't know where to begin." So in order to meet the needs of our audience, we try to keep our concepts broad and simple. Inbound marketing is a pretty straightforward strategy, but there is definitely some nuance to it. As you become a more experienced marketer who is comfortable with online marketing, then you can begin to learn deeper strategies or tactics for maximizing the effectiveness of your inbound campaigns.
For instance, whenever we discuss content here on our blog, we're normally talking about blogs. And if you've paid attention, you should be intimately familiar with our blogging recommendation (at least three new blog articles per week, with daily posting being optimal). And we always advise you to write about topics that are of general interest to your customer base. However, should your topics ever get more intricate than that? Should we cater certain content to more specific audiences?
Your buyer persona should dictate everything
For starters, let's discuss the buyer persona. A buyer persona is a fictional representation of your ideal customer, and you should really have 2-3 different buyer personas. Then, you write your content to meet the needs of your buyer personas. No matter what the topic or headline, it should be relevant to one of the personas (questions or concerns they need answered about your industry).
Understanding the path of the buyer's journey
Regardless of who your buyer personas are, they will still have to complete the "buyer's journey." As detailed by HubSpot, the buyer's journey is the same path almost every inbound lead will take on their way to becoming a customer. This journey has three specific phases: Awareness, Consideration and Decision.
In the Awareness stage, the lead is aware they have a problem but aren't quite sure how to solve it. In the Consideration phase, the lead has determined what their problem is and is now weighing their solutions. Finally, in the Decision stage, the lead has decided on a course of action and is basically price checking and evaluating vendors.
For today's blog, we're going to discuss the awareness stage, because this is one of the areas where your blogs can be most effective.
Why the awareness stage is a land of opportunity
In the awareness phase, your leads are very open-minded. Heck, they aren't even sure what their problem is yet, so they will listen to a voice of reason. You can provide that voice of reason with your blogs.
If you want to reach those leads in the awareness stage, then be decisive and firm in your content. Make bold declarations and try to explain to your leads why your products/services are the solution they're looking for. We're not advising that you lie – just have some pride in your work. Remember, these leads are searching for a solution, so give them the right solution. Your solution.