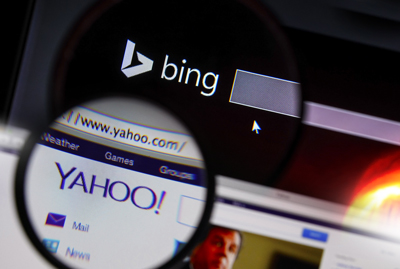 When it comes to online search options, Google is easily considered king. It's not often that you hear someone say they'll "bing" or "yahoo" something. But even though they may not be exactly top of mind when it comes to online search, there is still some value to be found in Bing and Yahoo.
Although Bing may not be the first search engine you think of when you go online to conduct research, at the end of last year Bing ended the year with an all-time high in US market share. While Google still dominates with nearly 67 percent of all searches in December of 2013, Bing is the #2 search engine in the US. Yahoo isn't looking quite as good.
In 2009, Yahoo and Microsoft made a deal that would enable Yahoo to use Microsoft's technology to pull in search results. Yahoo results are basically the same as what you're getting from Bing (Microsoft's search engine) – they will even say "Powered by Bing" at the bottom. When they made this deal, it was thought that Yahoo was doing so in order to focus on their other assets, such as email, news, etc., as well as to "lease" search results from Microsoft rather than pay a hefty price for their own technology. Unfortunately for Yahoo, this has helped Bing become much more valuable when it comes to search, and dropped Yahoo's value in this area.
So since we know that Google dominates by owning nearly 70% of all online searches, what does that mean for Bing and Yahoo? Well, clearly there are still some out there who use these search engines to conduct their online research. And the results they pull in are in fact somewhat different than those you get from Google. Of course, we don't know why exactly, since the algorithms they use are closely guarded. But we can assume that the same search engine optimization best practices are safe to use across the board, although it may results in slightly different rankings.
Although SEO best practices change regularly, the basics remain: include target keywords throughout your copy, in your headlines and subheads, in URLs, title tags, and alt tags whenever possible. Refrain from keywords stuffing, and update your website and blog frequently. These few things make a big difference in your online rankings, regardless of the search engine.
To read more on this topic, download our free eBook "How to Rank #1 on Google".