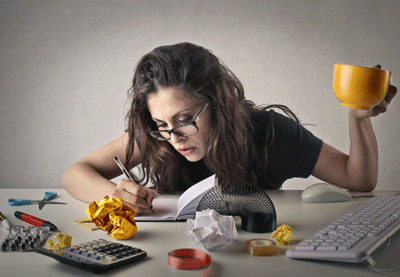 If there's one thing inbound marketers seem to spend an inordinate amount of time worrying about, it's blogging. I suppose it's easy to understand why: most of these people are marketers, not writers. The idea of churning out a steady stream of 300-600 word articles probably sounds like a nightmare to these people.
On top of all that, you've still got plenty of other responsibilities to concern yourself with. You may have to run your inbound campaigns, or monitor your social media pages and send out marketing emails (among other things). With all of that, who has time to write a marketing blog?
Well, before we get into any of that, let me first give you some important advice: relax. This isn't the final term paper that will determine if you graduate or not. These are just blog articles. Yes, they should be professional, well-written and informative, but they are most likely not going to be considered for any awards.
So my blogs don't have to be any good?
I didn't say that. What I am saying is that your blogs don't have to be extraordinary. Try to produce the best content you can, but at the end of the day, who's going to read this stuff? It won't be the literature critic from The New Yorker; it will be potential customers who just want answers to their questions.
The bottom line is, as long as you provide the answers to those questions, it's OK if you're articles aren't incredible. If you happen to leave a blog a little short at the end, that's fine; it won't be reflected on your final grade or anything.
But I don't know what to write about
Of course you don't. Well, of course you say you don't. Everyone says the same thing. Coming up with topics is a unique challenge, but it's really not that difficult.
You work in your industry every day, right? So who understands it better than you? Consider the topics your customers talk about, or the questions your new customers typically ask about; those would all make fantastic topics for blog articles.
And when you combine your knowledge with the knowledge of your coworkers, you'll figure out plenty of topics to write about.
Well, how often do I have to do this?
At minimum, you should be posting three blog articles per week. But if you really want to see your traffic and search rankings rise, you should be posting on a daily basis.
That's a ton of articles!
Yes, it's quite a few. But remember, these don't have to be 3,000-word term papers. A well-written 350-word article will fit the bill just fine. And if some of your articles are slightly similar, that's OK as well. Because truthfully, no one but your mother is going to read ALL of your articles (and she might skip a few, too).
Fine. I guess I can manage. Any other advice?
Don't forget to promote your new articles using every avenue available. So post a link on all of your social media accounts, and consider sending out an email alert to some of your leads.
Good advice. Is that it?
One last thing: Enjoy writing!