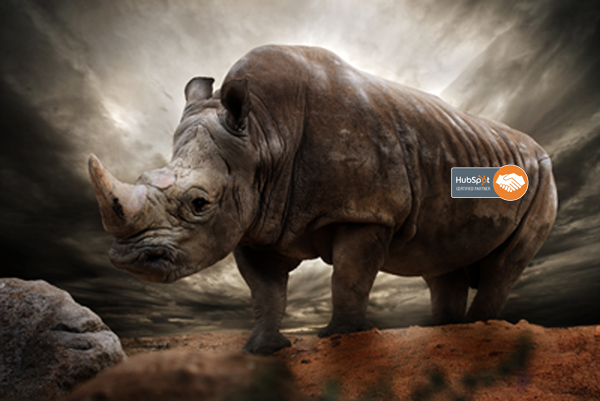 Rhino Digital Media, Inc. Case Study Month 4
I have been a bit remiss in my monthly Hubspot case study for June. Yes I know its July 11, 2014. However we have been busy in our effort to become the premier Hubspot certified partner on the West Coast.
For those of you who have no idea what this is about or what I am talking about, allow me to provide you with some history.
BACKGROUND:
In December of 2013 our agency, Rhino Digital Media, Inc. made the decision to become a certified partner of Hubspot and to change the focus of our business to content and Inbound marketing. Prior to this decision we had been a more traditional advertising agency that provided some basic website design and onpage SEO. Our general belief was that the consumer market had changed to the point that we wanted to change with it. This case study is our month by month accounting of our transformation. On February 24, 2014 we launched a brand new SMART Sales website at www.rhinopros.com. Since that time we have blogged 5 days a week and employed all of the best practices of Inbound Marketing as taught by Hubspot. This is our story and we will provide you with some screen shots of where we stand today. March was month 1, April month 2, May month 3 and this document covers June 2014 which was month 4. We started from zero and want to put Hubspot on the spot to see how well it works and how long it takes.
I will supply you with a few screen shots to see analytics and performance metrics. I can tell you that at this point progress is slow but steady. We are impatient to see more sales results but as I write this we are onboarding what we consider as our first full fledged bulls eye sale to our quintessential buyer persona. And in the middle of that process and before we have really delivered anything he referred a friend and we are in the middle of making that 12 month retainer sale. Our goal is to bring in two quality buyer persona sales per month that are as a result of our website and inbound efforts. June we had 1.
Dashboard June 2014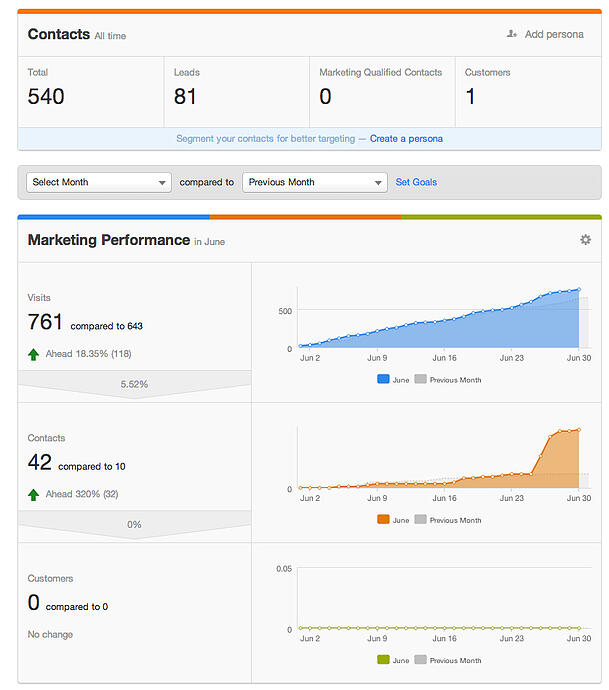 Landing Pages and Blog June 2014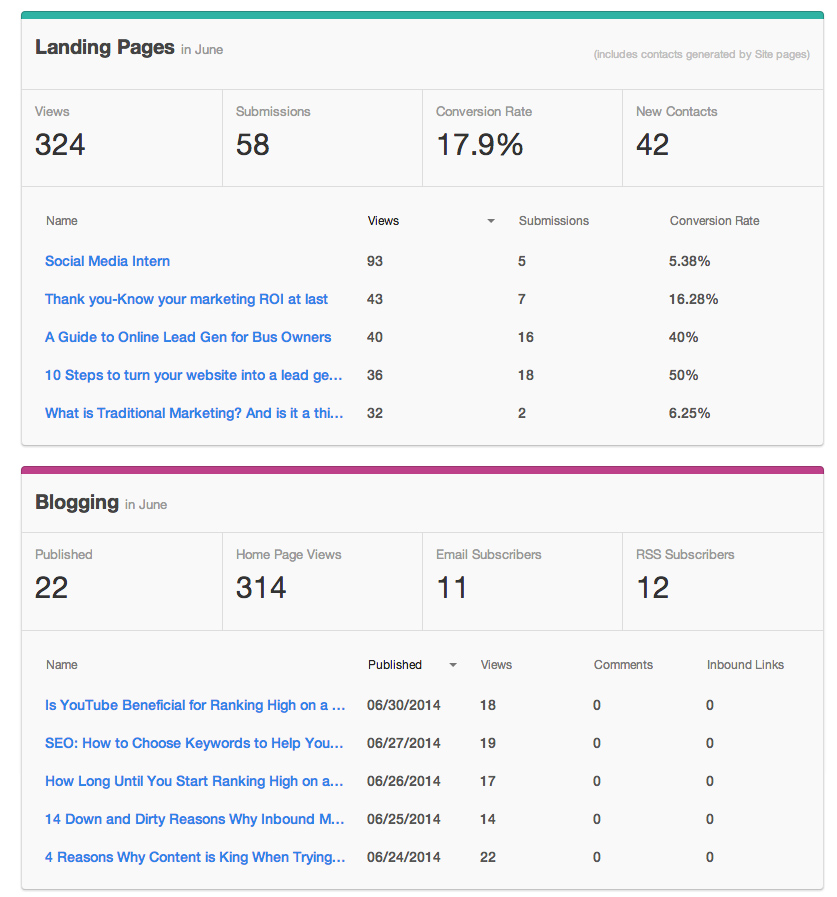 Emails June 2014
Sources June 2014
Note on the sources report the fact that the organic traffic is catching up to the direct traffic. This is a significant factor for us when you consider we started with virtually zero organic traffic. Social Media is greatly improved as well and when combined with organic it is greater than direct.
Sources All Time. We Went Live February 24, 2014
Here once again when you consider that in the beginning we had almost zero traffic from organic and social media and now those two metrics are accounting for over 50% of our traffic is huge. We are anxious for the time that organic traffic alone will outpace all other metrics for our traffic results.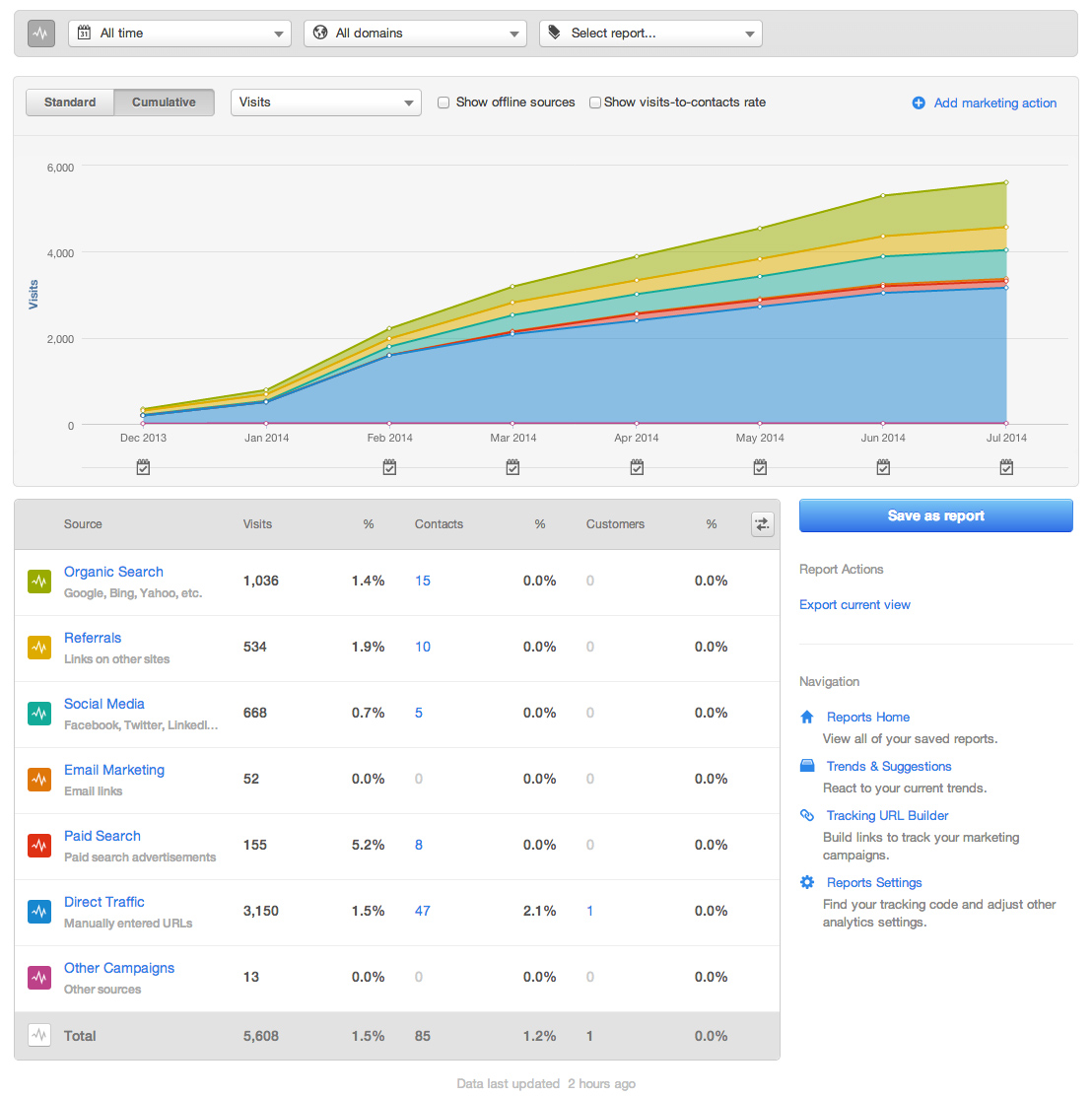 I don't like to overdo the reporting on these case studies. I really just want to give you the good the bad and the ugly. So what are those things?
THE GOOD:
We see daily momentum and have been able to move from convert stage into the close stage. That is tangible progress and we continue to see traffic and leads. We are now excited to move our inbound efforts more into closing those leads into sales and that is where we hope this momentum will take us in the next months report. Our ability to evaluate leads based upon our use of the inbound marketing assessment is now becoming routine and conversational in nature. That's huge because a client can sense your confidence in what you are doing when you are comfortable and knowledgeable. We as an organization are very particular about the quality of our SMART Sales Websites™ and once again our ability to now create what we know will work has greatly improved. We also have utilized a great Hubspot partner in Josh Ames at Spark Reaction. He is a great resource, asset and friend. I would also like to give a shout out to Lance Cummins at Nectafy who is the original inspiration for this simple case study diary. Lastly on the good, is the basic fact that in Social Media channels, and through our blogging efforts and emailing efforts it is becoming clear that our name is now out there and we are no longer the new guy on the block.
THE BAD:
We are still slow at what we are doing. That means profits are minimal at this time. It's a two-fold issue; 1. We will not compromise quality in what we do and 2. We are not going to overcharge clients while we become efficient and quicker at what we do. So while we grow and improve we will have a slim profit margin. Our clients won't know that and that's what matters. By the end of this year our goal is to have at least 6 SMART Sales Websites up and functioning on the Hubspot COS and that they are among the best of class.
THE UGLY:
Simply said workflows. ARRGGGHH… We want to be experts in workflows and they can be complicated. Next week we have an appointment to speak to the Hubspot expert on workflows to improve ourselves in that area. I guess it's kind of like the Apple genius desk. Once again, part of the problem is that we refuse to use simple out of the box workflows. We want strong performing, well thought out advanced workflows. So sometimes I think we make things harder on ourselves than they have to be. But how else can you become expert at something?
IN CONCLUSION:
To wrap up this months case study entry; we are still in the process of becoming a full intermediate user of the Hubspot system. Our entire staff has become Hubspot certified and our website designer has now passed the COS certification. To make this story have a happy ending we are turning our efforts towards generating sales. It would not be a fair appraisal if I did not express my impatience. And really, it's a good experience we are going through. It keeps us real with our clients. I don't want new clients to expect instant results and being able to share our direct experience with them is important. We feel that what we are doing is building real time equity online. It's a slower process but its long term and permanent. I am anxious to report our breakthrough month. But in the meantime, I will continue to post every month until we have been at it for 12 full months. Happy marketing to all of you.