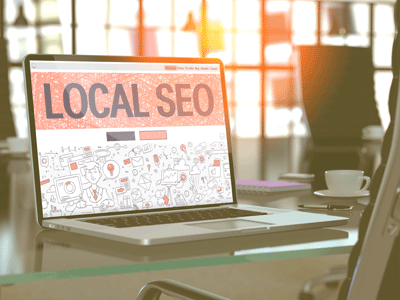 If you recently opened up a small business, congratulations! Now the real work begins. After you get things going, start serving customers, and making a profit, you will probably begin to wonder how you can market your business to help it grow. You might consider advertising in magazines or on television, or you might want to buy ads on Google. These are all valid ideas, and they will likely work to a certain extent. However, if you want long-term success and continued growth, you should consider local search engine optimization (SEO).
For a beginner's guide to SEO, read this blog post from Kissmetrics, which will introduce you to the topic and why it is important. In summary, SEO helps search engines like Google or Yahoo find your website and subsequently connect searchers to it. If you run a dog grooming business, you wouldn't want to show up when someone searches "dog training" because those people don't want to be your customers. You want you site to appear and rank high for the most relevant search terms, so for the dog groomer this would be things like "dog grooming business" or "where to get my dog's haircut."
However, as a small business, it is extremely unlikely that you will ever rank for broad search terms. It is much more effective to go after the right keywords. Our dog grooming business will always be outranked by the big corporations like PetCo or PetSmart. This is why small businesses need to know about local SEO.
Local SEO vs SEO
So, what is the difference between these two similar terms? It is exactly as it sounds. Local SEO is optimizing your website specifically for the area you serve, and SEO is optimizing focused on your business as a whole. For example, local SEO for the dog groomer would target the location of the groomer, let's say San Jose, and SEO would target keywords relating to grooming like "pet groomer" or "dog hairstyling." A combination of the two is important so search engines know where you are and what you do.
Local SEO is so crucial because one of the first things you see when searching on Google is a map with 3 businesses listed. If Google doesn't know where your business is, you are missing an opportunity to reach many people. Of course, making it in this "3-pack" takes more than just an address. There are several things you need to do.
Where to start
The key to local SEO is consistency. You need to have the same name, address, and phone number (NAP) listed on every website your business is on. This shows the search engines that your information is legitimate and trustworthy. According to Moz's research on local search, mismatch NAP and incorrect addresses are major negative ranking factors. If you have changed your business name, moved addresses, or changed your phone numbers recently, it is a good idea to check how this is reflected in your online presence.
One of the first things you should do when beginning local SEO is set up a Google My Business account. The same Moz research found that Google My Business (GMB) plays a key role in local search ranking. Once you set up an account, you will want to create a page for your business and fill out all the information accurately and completely. According to the website cited, "GMB puts your business info on [Google] Search, [Google] Maps, and Google+ so that customers can find you, no matter what device they're using."
As you can see this is incredibly important for small businesses because a vast majority of users turn to Google first for all their search needs. If you aren't utilizing it to its fullest potential, you are seriously hurting your ability to be found.
Other things to consider
Another big part of local SEO are citations and reviews. Citations are sites like directories (Yellow Pages, Yelp, Manta, etc.) where your business is listed. Having many of these sends signals to the search engines reaffirming your information and giving your business some authority. If your business has been around for a while, you should check these directories to see how your company is represented. There might be wrong or outdated information, which could be negatively affecting your search ranking capability. If you visit Yext.com, you can get a free scan of your business and see any inconsistencies.
Reviews aren't just helpful for future customers; they also help with local rankings. The Google "3-pack" tends to show the top-rated businesses while all others are left in the dust. When I search "dog groomer San Jose," the first listing under the map has less reviews than the third listing but the overall rating is higher. Therefore, it isn't just about quantity. Unlike Yelp, which discourages asking for reviews, Google actually encourages it because it helps them determine search results. Don't be afraid to ask your past or current customers for reviews on Google (hopefully they are good ones!).
Finally, your small business should be on social media. It is not only a great place to connect with your audience, but it can also impact your local SEO. On Facebook, for example, you can list your address, your phone number, and include your operating hours. Your fans can also leave reviews or even make appointments (if relevant) right on the page. Because social networking sites are so highly regarded by search engines, these pages will often rank among the top results when someone searches for you. Remember, consistency is key!