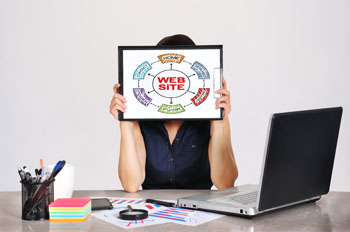 Yesterday I had an interesting meeting with a client of mine. We were getting together to begin the stages of development for a brand new website. In this case, the customer built his own site on one of those bargain basement hosting services. He put a few pictures on the site and a 9-minute video of himself telling a story. Needless to say when we analyzed the results he had 1 hit last month, while his competitor had 13,000. Time for an overhaul!!
We met quite by accident and began a fun and interesting conversation on the ins and outs of online marketing. It was in this conversation that we agreed to create and design a new WordPress website and to provide a 6 month period of search engine optimization (SEO).
During the course of our initial conversation he understood very clearly that he himself was not a website designer and that he knew little to nothing about SEO, advertising or online marketing.
However, he like so many other customers I deal with got caught in "analysis paralysis." He went to a WordPress theme site and was now caught up in every feature, add-on and widget they had available. We went from creating a well-planned, fully responsive (mobile friendly) SEO ready website to creating the Taj Mahal without any deadline.
In the course of twenty minutes I knew both he and I were doomed and going to go nowhere. This becomes so typical of the panic people go into at the onset of creating a website.
KEEP IT SIMPLE
Yes I know that everyone wants their website to be the best creation known to man. But guess what, an average website with lots of traffic, leads and conversions is far better than the most beautiful feature packed website that nobody sees! Websites are like a nice brochure. They are necessary for customers who are interested in your business and its services. They tell your story. But folks, they don't sell anything. It's the activity after your website that makes it work. So make your life easier and just follow these 5 tips to get your website up and running and generating some cash.
1. Just use 6 pages for your website. For 90% of you out there, that's plenty of information, pictures, video, a blog and contact info.
2. Use WordPress like over 65 million other people. It's the most popular content management system in use on the Internet. Just go with the best.
3. Let a professional put your content in your website. You are a professional at what you do and I'm sure your good at it. How many websites have you developed content for that was full of keywords and other optimization features to make the website work? Remember, if you have a billboard in the middle of the Sahara desert it's probably not going to work real well without somebody being able to find it. The content is the road to your website, let somebody who knows what they are doing write it.
4. Make sure your website is fully optimized on day 1. WordPress is very SEO friendly but you still have to make sure that all of the On-Page technical requirements are met. If they are not, you are likely not going to be found on too many searches.
5. Relax; it won't be perfect on the first launch. It never is. But that's what makes the Internet so cool you can change it tomorrow. So get your website up and working now. Your energy and effort needs to be spent getting traffic to your website and leads and revenue to your business. Just get it done and look to a professional to help you.
To understand how to take your website to the next level, download our eBook on the 10 steps to turn your website into a lead generating machine: