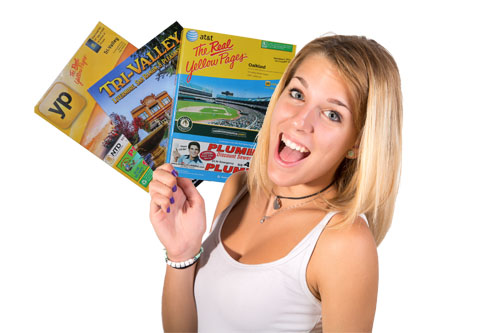 But before you get too excited about having a FREE ad design, are you sure it's the ad that's your problem?
Often times advertisers in the yellow pages don't really know why the ad isn't working anymore and in the frustration start changing the ad, adding color trying out different products and ideas that are usually introduced to the advertiser by the Yellow Page company salesperson.
First of all, we are serious, and we will design a brand new professionally created ad for you. All we want is the opportunity to do a complete inbound marketing assessement on how you are attracting leads and the methods you are using to do it.
Back to the ad dilemna. To determine if you need a new ad, smaller ad, bigger ad, better ad design, different heading, different product you need to figure some things out. For instance:
Is the heading that you advertise in still getting usage? The best way is to look at how many ads are left and look at the past 2 or 3 years to see if they are renewing or reducing in size and number. It's a good bet that if none of your major competitors are there that there is a bigger problem than the ad design.
Consider your town and demographic location. Is it rural or is cosmopolitan? Chances are that if you live in a major market area with lots of advertising and marketing alternatives and a progresive customer base, that the ads not really the problem. You really want to know the posession and usage numbers in your market area. That means if you went right down your neighborhood and knocked on doors asking to borrow the Yellow Pages, how many people have a copy and of those how many people still use it on a regular basis? These numbers used to be readily attainable, but nowadays it seems the only group keeping track of statisitcal information on the yellow pages is the yellow pages organizations themselves.
Is the book you advertise in being distributed fully and is it available to new consumers and customers moving into your area? A few days ago I went out to try to find a new phone book for the picture used in this blog article. I went to 3 Safeway's in our town because that's where they used to be avaiable. I was told they no longer distribute the phone book. I went to an AT&T building to see if they had them even though it's a different company now. No luck there. Then I came back into the office and googled away for several minutes to see if I could find out where to get a copy. No luck there either. In directional advertising like the yellow pages, one of the prime if not the prime target buyer is the new consumer. The person new to your market area who has nobody to do business with. If they don't get a new phone book when they move in, get your ad out of there!
This article is not going to deal with the issue of what to do if you think you need to do something else besides or in lieu of your ad. What we will say is this. If you think a better and more professionally designed ad will do the trick, then call us and we'll take care of it for you free of charge. We will however, get an agreement to evaluate everything else you are doing in your marketplace to insure you're not missing the boat entirely on opportunities to grow your business. Just consider this, before you sign up for another long term contract that never expires, get in touch with an inbound marketing company and just talk about alternatives. You'll be glad you did.
We are serious about your FREE ad in exchange for an assessment, just call us at 925-750-7300. We designed yellow page ads for a decade and without doubt are one of very few firms around who can say that. Happy advertising and marketing, and good luck in the next two quarters of 2015.
To get a better understanding of Inbound Marketing click on the FREE eBook below. It's no charge and it's a good read on the topic.