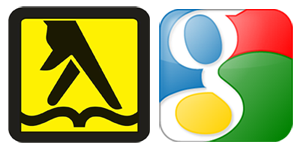 In the good old days BG (before Google) man used a simple and useful directory to find local business owners. It was called the Yellow Pages. It was simple to purchase an ad and it was delivered every year like clockwork. The only big problems were the ridiculous costs as appropriated by a monopoly giant and the issue of a mistake not being able to be corrected for a year. That's when the next printed publication came out.
Advertisers who wanted a larger coverage area than their primary heading or their primary directory area would have to purchase multiple ads or listings. For example, I live in Northern California and if an advertiser wanted to cover the entire San Francisco Bay Area in Yellow Page advertising he/she would have to advertise in approximately 20 telephone books. Then if they wanted to advertise in 3 or 4 headings/categories in the telephone directory they might end up with 60-80 individual advertising items.
The obvious and primary reason to buy all that stuff in all those places was to insure that a consumer would find you right where they were looking. We used to call it horizontal selling and would remind the advertiser that if they were not in a heading when a customer was there looking they were assured of not being contacted to make the sale.
That was the way of the world for almost 100 years. The Bell System Yellow Pages and others made a boatload of money in those days and they charged a lot of money for that advertising. The thing that most will admit is that up until somewhere around 2000 that advertising still worked pretty darn well.
But then came Google. And then came keywords and SERP's and algorithms and penguin and panda and hummingbird. EEEK! It's enough to make you crazy, but in reality it's the same thing. The fact is that searchers are to Google what shoppers were to the yellow pages. There really is only one big difference. The customer dictates what the headings are. In other words, whatever I type into my search field becomes the heading of choice. And the game for the advertiser is to figure out what I search for most of the time. Kind of like the old school plumber who would put the bulk of his budget in Plumbing Contractors. He would also put smaller items in places like drains and septic cleaning, faucet repairs, water heaters etc.
Nowadays for the advertiser the question is the same, do I try to compete with the big boys on the big keywords? Or do I try other things or even resort to buying listings on directories like YP and Yelp to see if they can drive that traffic?
The only thing that is really necessary for the advertisers of today to manage their online presence and strategy is to understand how searchers and searches work. There are many advantages to being able to manage, evaluate and change your online marketing efforts on a regular basis. No more once a year. Take some time to really look into the various options you have when it comes to advertising and marketing your business online. Here is a short list of the Google searches you can use to find out ideas on the strategy you should use to market online.
Try these searches:
• How much money should I spend on the Yellow Pages?
• Break the habit of Yellow Page advertising
• What is Inbound Marketing?
• Inbound Marketing Firms
• How inbound marketing drives real results
• Hubspot inbound Marketing
• Search Engine Optimization
• Yellow Pages vs Google
That will give you lots of valuable information to get you going in the future for your advertising and marketing and leave the old ways behind. The Yellow Pages was a fantastic source of new business in its day. It just got old!