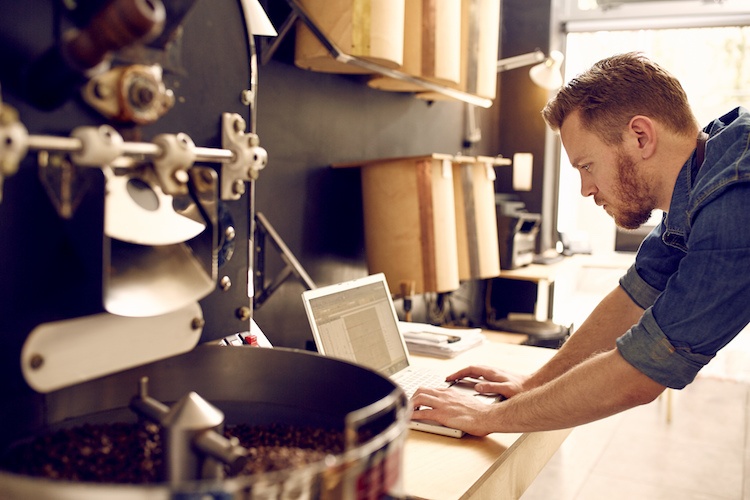 As we enter 2018, you'd be hard pressed to find someone who still doesn't appreciate the importance of the internet, in, well, pretty much every aspect of our lives. We all know how connected we've become to our friends, families, information resources, and all sorts of business, from high finance to retail shopping. But when it comes to marketing your small to medium-sized business on the internet, it's not always clear how to best leverage the power of the internet. Though we see vast national and global companies with a huge online presence, this leaves many small business owners wondering just how this all applies to a local business.
Consumers are shopping differently, even locally.
Before I directly discuss methods of marketing for your local business, it might help if we first ask ourselves a question. The last time you needed a local service, say, for example, a plumber, or a new dentist, where did you look? Unless that last time was back in the 20th century, I'll bet that you didn't pick up the yellow pages, or look at the classified ads in the back of your local paper. Chances are that when you're looking for just about anything, you start with an internet search, like most people do. And that's not just for when we're looking to buy something from Amazon or another national distributor. It applies equally to local business. From Google, the search-meisters themselves: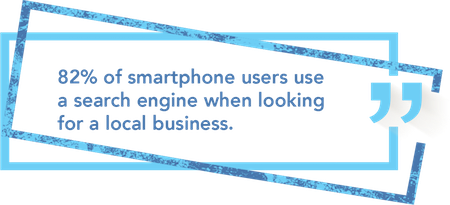 It would be far from the truth to say that web searches are only the domain of enormous companies. You might even say that small businesses are now on more of a level playing field. Local shops and service providers are now able to compete with much larger rivals, as long as people can find you in their searches. And consumers aren't stopping after that initial search. They're buying, and usually not long after they start the local search. 70% of these searches result in a purchase or at least a visit to a store, according to another study by Google.
They're searching, but can they see you?
OK, people are searching. But what or who are they going to find? This is where content marketing enters the picture. If you're not familiar, it's a powerful tool for digital marketing. Formerly only used by very large brands, current trends have made it a very effective tool for local businesses as well. You might even say that it works even better for local businesses, who can focus and hone in on a very specific market, with content relevant to their target audience.
What Content Marketing Can Do For Local Businesses
There are a number of benefits of content marketing. Don't think of these benefits or goals as being mutually exclusive. Rather, they're more like different aspects of the same ultimate goal, which is to drive traffic to your website, and increase your sales.
Here are a few that are the most relevant to local businesses.
Attracting qualified leads to your website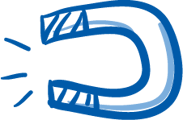 Content marketing works by providing engaging content which is meaningful to your target audience. This is done by means of blogs, whitepapers, and even other media which address issues that are relevant to potential buyers of your products or services. For a local business, this could include news and issues of concern to your local area, as well as articles that address the pain points of people in need of what you have to offer. If your content is well-designed for SEO (Search Engine Optimization), when people search for that type of information, they'll see your links and hopefully click through to your website.
Increasing brand awareness and your authority in your field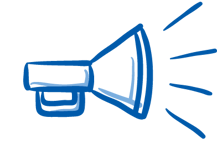 Once you've created high-quality content, there are a wealth of opportunities to share that content, especially in social media, where your links will very likely be seen by a wide audience. Repeatedly seeing the brand's name or yours as an individual author will go a long way to establishing your brand as a household name, and elevating your reputation as a subject matter expert in your field.
Creating valuable links to your website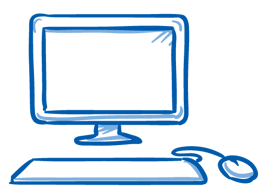 This point is somewhat connected with the first two. Meaningful, valuable content gives other websites and even other bloggers a reason to share links to your site. This is especially true if your content is chock full of useful resources, including statistics, infographics, lists, etc. Giving others in your field a reason to link to your content will attract searchers looking for what you're offering.
Generating social media shares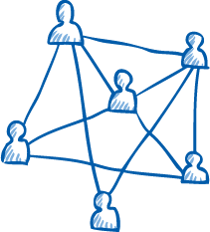 You can harness the power of social media by putting out the right type of content. It should go without saying that you'll share your links via your social media pages, and, if they catches people's attention, you'll get plenty of "likes", "+1's", and shares. To maximize your benefit here, be sure that your content is built to inspire sharing - short pieces, loaded with references to popular culture, multimedia elements, and lists such as "top tens" seem to get the most mileage in this regard.
Tips for Content Marketing For Your Local Business
Don't forget the primary goal of your content marketing - catching people who are looking for what you're selling, and getting them to your website, where you can convert them to buyers. Here are a few ways to maximize your results: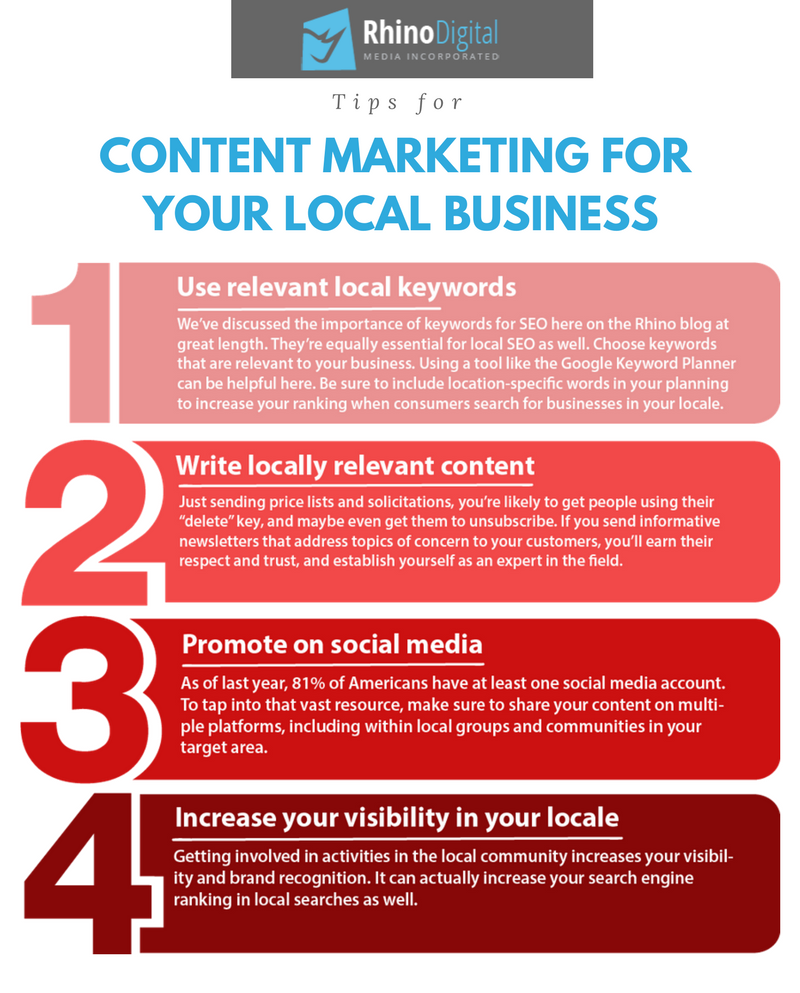 For more ideas on how best to implement a content marketing strategy for your local business, contact the digital marketing experts at Rhino today for a free consultation!