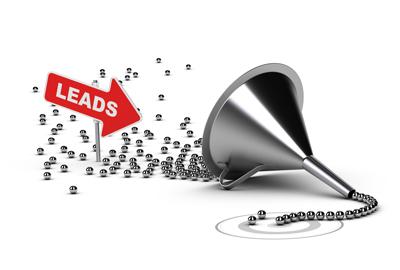 Finding leads for your business is sometimes easier said than done. If you're a small business owner, you know that without qualified leads, your business will suffer. Relying on your past and present client base may sustain you for a while, but it certainly won't lead to much growth. So, you may be wondering, what is the best way to get leads for your small business?
Putting in a bit of effort to develop your online presence can go a long way. In order to begin generating leads, you need to make sure you have three things: a website that is capable of capturing leads, a blog where you are consistently publishing helpful information, and social media sites where you interact with your past, present and hopefully future clients.
A stellar website is the most important thing you can do when it comes to growing your business online. For customers who discover you on the Internet, your website is the very first impression they often will have of your company, and we all know how important first impressions are! You will need to make sure that your website covers all the bases: easy to navigate, clear & concise message, full of helpful information, links to all social media sites, and able to capture leads. If you make sure you can check all of those boxes, you are already ahead of the game.
Aside from your website, a frequently updated business blog is the best thing you can do to generate leads. Your blog should be full of information that you know your target buyers will be searching for. Before launching your blog, spend a fair amount of time doing research. Figure out who exactly your target buyer is, what they want and need from a business like yours, and how you should speak to them. Determine how they will be searching for the products and services that you offer, and what search terms they will be most likely to use. Then, develop your blog's content calendar based on answering those questions.
If you own a doggie daycare in Fresno, for example, you know a few things. Your target buyers are pet owners who are looking for reliable care for their dogs. They want to know that the care you provide is safe, and that you will show their pets plenty of love and affection when they cannot be with them. They may use the search terms "Best doggie daycare in Fresno", "Reliable doggie daycare Fresno", and possibly even "Dog Boarding Fresno". You can therefore begin crafting your blog content with those terms as your target keywords.
The more time you spend researching your potential clients, the more you will know about them and the better you will be able to create your content based on their wants and needs. The more content you create that has targeted the specific search terms that those consumers are searching for, the more likely you will be to rank highly in the search engines for those terms.
Now that you have the robust and informative website and the blog chock-full of helpful, specified content, you need to focus on your social media efforts. Sites such as Facebook, Twitter, Instagram, and Google+ are the best platforms at your disposal to build a one-on-one relationship with your customers, both present and future.
Social media allows for an open conversation between consumer and business. Never before has it been so simple for a customer to reach out to your business with questions, comments and concerns. This allows consumers, whether they are a loyal patron or are simply considering making their first purchase, to feel as if they have a direct line to your business.
If you take the time to manage your social sites correctly, they can be a huge source of qualified leads for your business. Potential customers often seek out the social pages of companies they are considering doing business with to get a better idea of what they are dealing with. If you have an active, engaged presence where you quickly respond to any comments or questions on your pages and frequently post informative articles or helpful links you think your consumers might enjoy, the potential consumer will see your business in a positive light.
In everything you do, you should be making the effort to capture the contact information of your potential customers. Every social media post, every blog article, and each page on your website should direct viewers to a detailed landing page where they will find the information they are seeking and are provided with the opportunity to leave their contact info in exchange.
By ensuring that you have these three things covered, you can rest easy that you are making a genuine effort to create the type of web presence you need to draw in the leads you desire for your business. To get a more in-depth look, take the time to download our "Guide to Online Lead Generation for Business Owners" eBook.