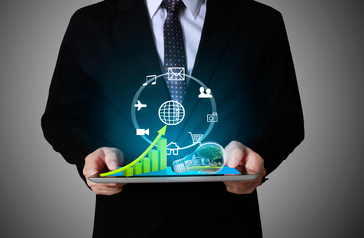 Developing a detailed Internet marketing strategy is at the very core of taking your business online. The implementation of a successful online marketing strategy can increase sales significantly for your business. In order to craft a successful online presence, there are several things you must do.
Define Your Purpose
What is your goal in ramping up your online presence? Is it to gain more clients? To create brand awareness? To interact and answer consumer questions? It very well could be all of these things and more. Understanding what exactly you are hoping for when initiating an online marketing strategy should be your very first step in the process.
Define Your Target Consumer
Before you can begin the process of finding solid leads and converting them into loyal customers, you need to be aware of exactly who you want to be reaching out to. Developing detailed buyer personas for your target client base is an essential part of the process. Once you have determined who you will be speaking to, you will have a much better handle on the type of personalized content you need to put out for these consumers.
Define Your Business Identity
In almost every facet of life your reputation precedes you. This is especially true in the business world. Before launching your Internet marketing strategy, take the time to genuinely consider what you hope to portray with your company image. Determine areas for improvement, both online and off. This will ensure that you are presenting a unified and consistent image across all platforms.
Study Your Competition
By spending time on your competitors' websites you will learn several things. You will see what they are doing well, and also where they are lacking. Obviously you never want to copy anything that they are doing, but take this knowledge and use it to your benefit. If you were a potential customer, what would you like to see? What changes would you make to their site? The answers to these questions will help you incredibly when it comes time to develop your Internet marketing strategy.
Use All of the Tools at Your Disposal
There are a number of online tools that you should be familiar with when launching a marketing campaign for your business. Social media sites such as Facebook and Twitter are becoming a vital part of business marketing strategies. Creating and publishing fresh, SEO-friendly content on a regular basis is also essential to your success. Email communication is a simple and effective way to speak to your clients. Before jumping in to your new online world, brush up on all of these tools so that you are prepared to use them to your advantage.
Measure Your Success
Regularly studying your website analytics is incredibly important for determining the success of your Internet marketing strategy. Keeping an eye on these metrics is the best way to know what is working and what isn't. The great thing about online marketing is that results are seen in real-time, so if something isn't perfect it can easily be tweaked very quickly.
As you can see, there are several things you must do before jumping head first in to your new Internet marketing strategy. By following the above steps you will be on the right track to developing a dynamic and thriving online presence.