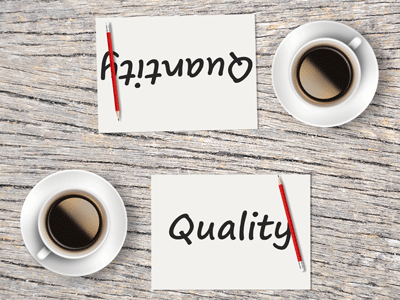 You've decided to embrace inbound marketing and are starting a blog for your business; excellent! This is a tremendous first step. But as you sit down at the keyboard to start typing away, you're probably wondering: exactly how many of these blogs am I going to have to write before we start seeing some organic results? Well…
The short answer: probably a lot
In order to properly understand how blogs work in the inbound marketing formula, you need to understand how the mighty oracle (Google) works. Google uses a web crawler that travels through all of the internet and indexes everything. The web crawler uses links to travel from webpage to webpage. As you can imagine, Google's index is enormous: more than 100 million gigabytes in size. Google then uses its own proprietary algorithms to provide search results from its index; ideally, the algorithms will give you the most accurate and relevant results related to your search terms.
So what does this mean for you? It means the more blogs you write, the better off you'll be. More blogs means more webpages, which means a bigger online footprint – and the bigger your online footprint, the more you'll get noticed by Google.
You know the old saying: Quality over quantity
Although you should be writing at least three blogs a week, it's important to remember one of the most critical parts of inbound marketing: keywords. If you'll pardon the pun, they truly are the key to organic results.
Organic results are going to come from Google searches, so you need to know the most popular terms people use when conducting searches related to your field/market/industry. This will require some time and research. You then need to be sure you use those keywords prominently in your content; in fact, having a keyword(s) as the primary topic of many blogs is a good idea.
However, you can't simply write the keywords over and over again and expect to see organic results. Google is a multi-billion dollar business for a reason: they're good at what they do. The algorithms have become ruthlessly efficient when it comes to identifying spam, and if you're just copying and pasting keywords repeatedly, that's precisely what you've become: spam (which will result in being penalized). Your content has to feature keywords in a way that makes sense. It's in your best interest for your content to be good, anyway: if a visitor doesn't find value in your content, why would they be interested in exchanging their contact info for more content (a vital component of inbound marketing)?
Blogging can be challenging, but it will certainly pay dividends for your business. If you want a much more detailed look at how to rank high on Google, download our free eBook: