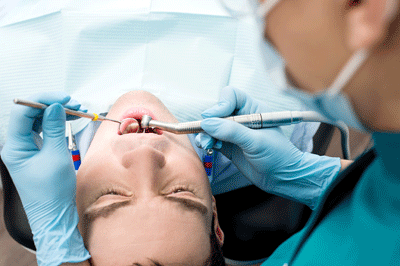 Bringing in new patients should be the ultimate goal of your website. It shouldn't be just an informational, static page that tells visitors where to find your office and what number to call to make an appointment. Although that information is extremely important, your website should be selling your practice as the best choice and convincing visitors to become patients. Designing a functional website allows your dental practice the opportunity to grow your patient list even when your office doors are closed. Overall, your site's primary function is driving sales.
A good indicator that your website needs to be redesigned is if you have never gained a patient from it. If all your clients come from advertisements, referrals, or stumble in by chance, you know that your website isn't working for you. You are paying for the site, so it should give you something in return! Here are some tips for redesigning your website.
Keep things simple
This is a mistake that many businesses make when creating their website. They try to be flashy and interesting but end up looking cluttered and unattractive. This is very common with medical websites like dental practices, where there will be endless lists showing every single procedure they perform and all the types of problems they treat. Your homepage should pass the blink test, which is the 3-5 second window you have to turn that visitor into a lead. Put yourself in their shoes and ask yourself what information you look for when visiting a site.
Put the most important information like your practice name and location at the top of the page in an easy to read font. Make sure your contact information is incredibly easy to find. I know that if I can't find a company's contact info within a few seconds, I generally don't even bother and simply exit out of the page. A visitor can't become a patient if they don't even know how to get a hold of you. Overall, you want your website to be easy to navigate and simple to understand.
Give people a reason to visit your site
There are so many websites out there, even just considering dental websites, there are millions. What makes your website different? Why would anyone visit it over your competitors? These should be key questions you ask yourself about your website. One of the best ways to attract people to your site, and therefore increase the likelihood of gaining a new patient, is to offer your visitors something of value. This usually takes the form of content.
Adding a blog to your website is one of the easiest and most effective ways to bring in more traffic. A great analogy from Forbes is "to think of blogging as fishing. The more hooks you have in the water, the more likely you are to catch a fish." Because many people would rather read information from a dentist than actually visit the dentist, you have the opportunity to attract a lot of people to your site. You can use the blogs to educate readers on any oral health topic and convince them why they should make an appointment with you. If you write a blog about the dangers of ignoring a toothache, it could push someone into calling you right away.
The great thing is that the more content you have, whether it is blogs, eBooks, whitepapers, or videos, the more pages you are adding to your site and the more likely that you will rank higher on search engines. This is exactly what you want as a dentist. You want your webpage to be number one on Google when people are beginning their search for a dentist near them. According to HubSpot, businesses that blog receive 55% more website visitors, so get started brainstorming on topics.
Turn visitors into patients
Once you see your website visit count start rising thanks to your great content, you might wonder why you aren't seeing your patient rise at the same rate. Well, your work on your website doesn't end there. You need to convert those visitors into patients. It is not enough to simply hope for someone to make an appointment, provide a call to action and make them want to make an appointment. Make it so convenient and easy that there is no reason not to follow through.
Many visitors simply aren't ready to become patients yet, so you don't want to force anything. Instead, you want to nurture them. Keep producing great content so they keep coming back. If they download one of your content offers, like an eBook, then you have their contact information, and you can use email marketing to nudge them towards becoming a patient. You can offer them a free consultation or a special discount or simply ask them what they are looking for in a dentist.
Stop wondering whether your website is holding your practice back. If you are even considering that, take the leap and begin a full redesign. It might seem a little costly and overwhelming at first , but in the long term it will pay off, if you do it right.