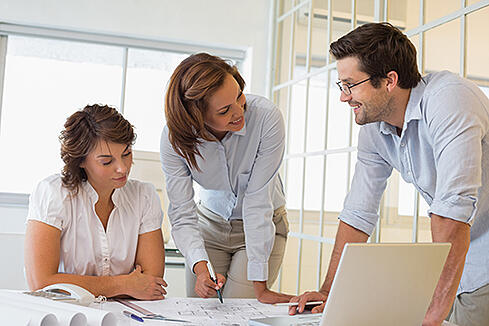 If you own your own company, or are simply in a position of authority, you have a big hand in the atmosphere in the day-to-day goings on within your business. Productivity improves greatly when people actually enjoy going to work each day – although this is something hard to come by, it appears. According to Gallup's 2013 State of the American Workplace survey, 70% of those surveyed are disengaged at their jobs. This is a scary statistic for business owners and managers, and something that absolutely needs to change. If you're the one in charge, how do you create a business culture that will keep your employees happy? Take a look at the tips below, and get ready to make some changes.
Show That You Care
If your employees know that they are more than just another worker bee for you, they will feel valued and respected. Go out of your way to show that you value them as an actual human being with something to contribute. Make an effort to get to know each of your employees on a personal level and remember their names. Take time out to speak with employees one on one. Hold frequent meetings to discuss accomplishments, goals, and future plans. Always address any concerns that they have promptly and with a sincere interest. These little tokens of appreciation can go a long way.
Give Them Your Trust
In order to have a successful company you have to eventually relinquish some control. Trusting your employees with some of the heavy lifting is good not only for you but for them. When people are entrusted with important responsibilities, they often step up to the plate in ways that they wouldn't have otherwise. Knowing that you trust them to take on bigger tasks may lead them to show you promising qualities that you were unaware of before.
Recognize Accomplishments
Giving acknowledgment for hard work is one of the best ways to show your appreciation for your employees. Give them praise, whether it be for a big project or just a daily task that they're excelling at. And don't wait for yearly or quarterly reviews to dish out the compliments. Receiving commendation unexpectedly is even more encouraging than when it's expected. Figure out what your employees value the most, and give this as a thanks for the hard work. An additional paid day off, a catered lunch in the office, or half-days on Fridays could make a huge difference in the mood around the office.
Create a Pleasing Environment
A lot can be said for aesthetics. Plenty of natural lighting, comfortable desk chairs, live plants, attractive décor – if people are comfortable in the space around them, they will naturally be more happy. Setting up the office to encourage more socialization can also be a good idea. The more interaction between co-workers, the more likely they are to form a pleasant relationship that will possibly lead to brainstorming and collaborating opportunities – or maybe even just friendships, which can make work much more enjoyable. If the office is someplace they enjoy being, they will be much more content to spend long hours there.
Keep Everyone Informed
Sharing important company information with employees before the general public is always a good plan. Keep them updated on important changes or possible updates to policies and procedures. Share your vision for the future of the company and try to get everyone excited about their own role within your plans. Be as open and honest as you possibly can. This will make your employees feel included, and as if they have a small piece of ownership in the company themselves.
Creating a pleasant atmosphere where your employees are happy to show up and work hard every day doesn't necessarily require a complete overhaul. By making just a few of these changes within your daily routine you will begin to see a shift within your company.