Here is our HubSpot story. I'll try not to bore you to tears but I feel that it is important for you to understand the whole story. In other words, how did we find HubSpot and what are we hoping to accomplish?
First some credit where credit is due. My new Inbound friend at www.nectafy.com is Lance Cummins. Lance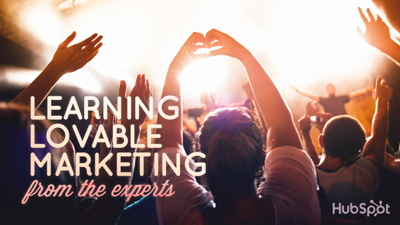 started the idea of posting his HubSpot experience and results before I thought of it and he inspired me to do a similar blog article. You can read about Lance's company and their adventures with HubSpot at http://nectafy.com/hubspot-review-month-2/.
In July of last year I left my job and career of over 30 years. I worked in the Yellow Pages industry and was there in the high times of the 80's and 90's and lived through the crash of the 20's. It was as a result of the failed attempts of that industry to convert themselves into a digital marketing organization that I threw in the towel. Now I am the President of Rhino Digital Media, Inc. a "HubSpot Certified Partner."
Rhino Digital Media, Inc. was started in August of 2012 and is a resurrection of a former business we had called Rhino Media. Our initial goal was to provide local businesses with a reliable company to use as a business partner in the complicated and complex world of online marketing and advertising. It bothered me watching the local business community being taken advantage of by companies promising leads and new business but not delivering on that promise.
We set out to become a marketing firm that could help local business "crack the code" when it comes to online lead generation. We decided to promote Wordpress websites, use MOZ as a primary source for SEO along with Google Analytics. We would provide Constant Contact as our email solution and BlueHost as our hosting provider. Hootsuite would provide us with SMO integration, etc. etc. etc.
In a very short timeframe it was becoming apparent that we were just another neighborhood website/SEO company. Something had to change!
So our Google search began. I thought about throwing in the towel and starting a hamburger joint. I really did! Ask me to see the logo and I'll show it to you. But start up costs for restaurants are over the top.
Then a cool thing happened. I came across an article by a guy named Marcus Sheridan. I really cannot remember specifically how I found him, but I did. Marcus Sheridan is known as a big time disciple of Inbound marketing and HubSpot in particular. He tells a story when he was co-owner of River Pools and Spas as they were struggling and facing tremendous financial difficulty. Marcus turns the whole business around by joining HubSpot and employing Inbound marketing strategies and most importantly blogging. I read his free story as seen here http://www.thesaleslion.com/download-free-copy-inbound-content-marketing-easy/.
It was as a result of reading about and then contacting Marcus Sheridan that I had an epiphany of sorts. At that moment I decided that we were doing everything wrong and needed to stop it and start doing it just like Marcus described and to become a certified partner with HubSpot.
Well the first thing I did was sign up for my FREE HubSpot trial and started to download everything in sight. Hubspot teamed me up with Brian Mosely (@bmose14). Brian is my sales coach at HubSpot and he and Tim Thyne (@TimJThyne) my Inbound Marketing Consultant have been holding my hand ever since.
So that's how it started and gets us to the timeframe of early December. Today is February 17, 2014. In that two month period we have accomplished the following tasks in our adventure with HubSpot:
Became Inbound Certified
Became HubSpot Certified
Became HubSpot Partner Certified
Our designer is now in the final stages of the COS certification
We also made a very smart business decision and talked to several different HubSpot certified partners seeking advice and counsel. In those initial discussions we had the tremendous good fortune to come across New Breed Marketing in VT. Patrick Biddiscombe and Galen Dow have been enormously helpful and our online journal here cannot give enough shout out gratitude for these two offering support advice and constructive criticism to help us not make any unnecessary mistakes. We even hired New Breed to assist us in developing our new Inbound website and as I write this blog we are waiting for it to go live. Very exciting stuff and it will all start momentarily. Let us share this HubSpot journey as we chart our progress month by month thorough 2014 and see what a marketing firm starting from scratch using HubSpot can accomplish.
In the following screen shot taken on 2/12/14 you can clearly see that we have no real discernable results. That's been intentional on our part because we want to seeusing nothing other than HubSpot Inbound methodology, where we can go from here.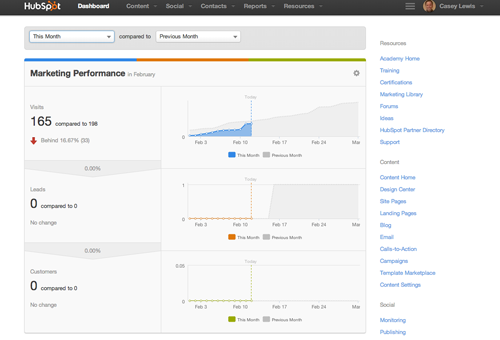 This next shot was also taken on 2/12/14 and shows you that there is no relative landing page activity, blogging activity or email activity.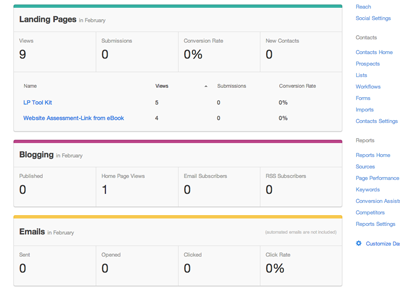 Our first order of business will be to activate our initial 3 premium content offers, to go live with all of the landing pages, thank you pages and email nurturing from scratch. To get this all going we have created the following offers, eBooks and whitepapers. They were created with help from New Breed, our content writer and co-branded materials from Hubspot. This shall be the impetus from day 1 to see how HubSpot and Inbound works.

This is an example of what our landing page will look like. The thank you page shall be very similar in appearance: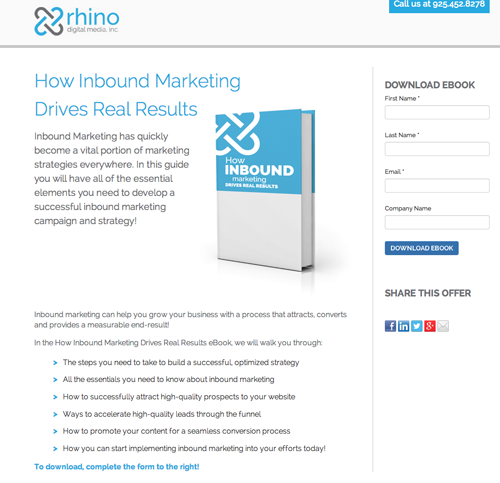 For blogging we have been working feverishly to create enough blog articles to blog 4 days per week every week, all year! At this time we have 35 articles completed not including this one.
We are taking this all very seriously and intend on devoting 40+ hours per week on this until we begin to see serious results. At that time we shall begin the task of expansion and are in the process now of finding more interns, Salespeople, content writers, HTML coders and creative staff to see this through.
That's all I want to share for this month. This will be where we started and I will report on monthly progress along with analytics, numbers and hopefully revenues. This blog article is not the typical type we are writing, I hope it finds its way into interested parties. Let me know what you think… and check this out :)