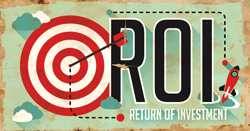 Determining your return on investment (ROI) for any marketing attempt can be a struggle. Traditional methods are notoriously hard to track. Who's to say how many leads a television ad or billboard actually brought in? How would you ever know how many people actually contacted your business simply because they saw an ad in the newspaper or a local magazine? On top of that, these methods of marketing are incredibly pricey.
When it comes to your online efforts, you may have been led to believe that it's even more difficult to track your ROI. But in reality, defining the true ROI of your inbound marketing approach isn't near the challenge that you might think it is. If it's been awhile since you've looked into your investment and taken a good assessment of what's working and what isn't, then it's time to take a closer look.
The great thing about inbound marketing is that everything that you do is so easily tracked. By measuring and monitoring your website analytics you are able to see exactly what you are doing that works, and what doesn't. It is the simplest way to begin to see your true ROI. How much traffic you're seeing directly correlates with how well your online marketing efforts are working. The more traffic you see, the more leads you will generate. From that point, it's up to your sales team to seal the deal.
Digging into your online metrics will allow you to take things down to the most basic level. You can view exactly which blog posts drive the most traffic. You can see which of your social sites get the most interaction and result in the most leads. You can determine exactly what your target audience likes to see, and what just doesn't seem to resonate with them. This is an excellent way to plan out your future marketing campaigns.
To make it even easier, Hubspot has a great tool that you can use. You can track which of your channels drive your best leads and bring in the most traffic. You'll be able to see which of your marketing efforts help move the sales process along best for your business. You can easily calculate the actual ROI for each individual marketing effort. Definitely a worthy investment if determining ROI is important to your or anyone within your organization, as it very well should be.
The more you look into things, the more you will see what a valuable venture inbound marketing truly is. With every (often very minimal) financial investment you make, you return an incredible amount of leads. And the great thing is, these leads are the best kind – the kind that found you themselves and are looking for the products and services that you have to offer. When you begin to look closely at your metrics, you will soon see that the ROI of inbound marketing far outweighs anything accomplished with traditional marketing methods of the past.