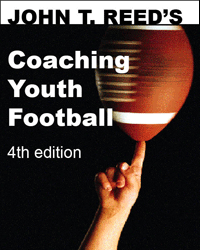 Inbound Marketing is the way to go. I know that and its figuring out how to pass that along to my clients in a meaningful way that gets me frustrated at times. I am reading the new book "InboundMarketing, get found using Google, social media and blogs." It was written by two young men that I consider to be the masters of Inbound Marketing, Brian Halligan and Dharmesh Shah.

These two guys come from MIT and are the founders of Hub Spot which I think is a great company.
In thinking about the best way to convey these strategies and tactics to my clients I thought about a friend of mine that I came to know through Inbound Marketing. Of course at that time it wasn't called Inbound Marketing but that's exactly what he was doing.
In 1992 I was going to coach a youth football team for my second son Brett. I had coached my first son Deryk's team and it didn't go real well. So I was determined that this go around things would get better.
Like any dedicated young father I decided I needed help. That help came in the form of Google. I searched something like "youth football coaching." A link came up to this guy in Alamo, CA named John T. Reed or "Jack" as he was called. The link
http://www.johntreed.com/
put Jack as the premier youth football expert on the Internet. I didn't understand the relevance of my search to the big picture.
At that time, I gave it no thought that what was going on was Inbound marketing, I just needed a book and Jack's site popped up so I got out my credit card and paid him $30.00 for his book. Then after I bought the book I would refer often to Jacks site. He has a whole section on the site full of articles by him on football topics. At the time I had no idea how ingenious this was. I wonder if Jack even knew. It was Inbound-marketing techniques at their best.
I tell this tale only because it came to me that this is exactly what I want this blog to explain to the market. Go look at johntreed.com. In reality its an ugly website. It's got no real style or graphic design. It just makes money! Lots of money year after year. Jacks books never go out of style, because every year a new crop of dads come along and need help. So where do they go? Google! And what do they find? John T. Reed. Even now 12 years after that original search John T. Reed still comes up. And today the market of youth football coaching books is very crowded and Jack still comes up.
I spent a career in advertising and marketing; Jack just did it from his bedroom. If there is a better example of Inbound Marketing, I don't know it. The moral of the story? Your website should be a salesman, not a brochure. To get a better understanding, download our eBook on How Inbound Marketing Drives Real Results: