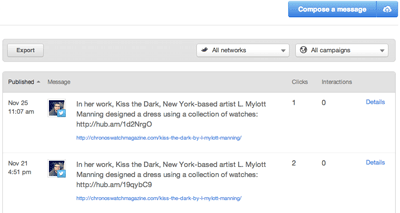 The HubSpot Content Optimization System allows you to deliver an incredibly personalized web experience for your viewers, on basically any device. There are many platforms out there to assist you in managing your web presence, but the HubSpot COS is a step above the rest.
One of the great things about the HubSpot COS is that it is one place where you can manage all of your different social media accounts. Through the integrated social tools you have the ability to build relationships with your consumers, expand your reach across the web, monitor your online audience, schedule your messages, and much more. Social media is a major part of what makes the online presence of your business a success, so monitoring the results of your efforts closely is essential. In this article, we'll focus on the social monitoring tool that's a part of the COS package.
The social monitoring tool allows you to track messages on Twitter, easily follow your contact or Twitter lists, and quickly respond to social media updates and messages. With this tool you can track mentions of words or phrases that are important to your company. After you've spotted an online user who is talking about something of importance to you, this opens the door for you to reach out and offer valuable content that they may need or to begin a conversation.
By tracking the conversations that you see online, you can also begin to formulate your content and social media plans based on what you've seen. Knowing what your target audience has an interest in and is chatting about with others is a great way to come up with topics for blog posts, eBooks, whitepapers, and the like.
Through the social monitoring tool you can create Streams for tracking purposes. Streams are basically the searches that HubSpot will use to monitor the conversations going on across Twitter, and then display them in your social monitoring tool. You can create your own stream, as well as view mentions, retweets, and sent messages. From the stream you can reply, retweet, favorite, or share a message through the social media publishing tool. You can also immediately follow a user, or email the message to a colleague who can then follow up.
Streams can be used in a variety of ways. Your marketing team could set up a stream to monitor the activity of leaders in your industry based on certain terms that they mention. They can also be used to find out what your prospects read about, like and share. This valuable information can be used in numerous ways throughout your marketing efforts.
Your salespeople can also use streams in many different ways. They could set up streams to monitor their open leads' conversations in order to determine their level of interest. They also could monitor both their "closed lost" leads' mention of certain terms, and their "closed won" leads to check back after the sale has been made.
Finally, your support team can use streams to determine any issues that people might be having with your company. They can monitor any questions or concerns that Twitter users have with your products or services. They can monitor any conversations across Twitter that are happening regarding your company, products, and services. And they can also keep an eye out for any feedback about your company, positive or negative, that may happen.
As you can see, at every step in the process of monitoring your online users, the social monitoring tool can be incredibly helpful. Getting started with the HubSpot COS and all of the social tools that it has to offer is simple, and a great step in the right direction when it comes to expanding your online presence.