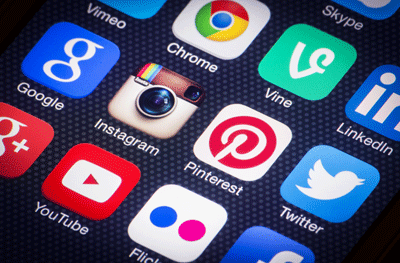 Social media is an important part of a solid inbound marketing strategy. In today's world, hundreds of millions of people use some form of social media every single day; if you're not taking advantage of the platform to advance your marketing goals, you're missing out on a tremendous opportunity.
For B2C businesses, social media is especially important. Nothing can give you immediate, direct access to consumers quite like social media. You also have a captive audience on social media platforms: a consumer has to willingly sit through TV commercials to see an ad, or agree to open a marketing email. But with social media, your content appears on the same level as everything else – which gives it a greater chance of being noticed and, ideally, engaged with.
In this article, we're going to focus on two of the social media platforms that are often ignored or under-utilized by marketers: Instagram and Pinterest. Both sites are more focused on images and visual representations, which can make them a bit more challenging to use for marketing purposes. But as with any social media site, if used properly, both Instagram and Pinterest can be tremendous tools for your marketing strategy.
Instagram
Ask any young person today about their favorite social media site, and you might expect to hear them say Facebook or Twitter. But in reality, Instagram has become the most popular site for youngsters. A survey from earlier this year found that 19 percent of people had an Instagram account; however, among the 12-24 age group, that number jumped to a whopping 53 percent – more than LinkedIn and Twitter combined.
You can't post to Instagram without using an image of some kind, but that doesn't mean you have to use photos exclusively. You can substitute graphics (including infographics) for standard photos; as long as it's in image file format, it can be used.
However, don't be afraid to use photos, especially ones that aren't promotional. Social media is all about sharing, and people enjoy seeing the more human side of businesses. Having a company holiday party? Post some photos from the event. Celebrating a birthday in the office? A shot of the cake would make a great post. Remember, a central tenet of inbound marketing is to resist being purely promotional. You want to attract customers to your business and your website, and making a favorable impression on them will help accomplish that.
Of course, you should also publish photos related to your business. If you have a new product coming out, photos of it are encouraged. Also, ask your followers to post photos of themselves using your products/services and to "tag" your account in the post; this will allow you to be notified when the photo is posted, so you can then share it with your followers.
Pinterest
Pinterest is unique in the social media world, because although it still encourages collaboration and sharing, it is the most self-serving social media platform. Essentially, it's an online cork board where you can "pin" things you like or wish to look at later. You can then share that board with your friends and exchange pinned content.
Like Instagram, Pinterest is a very visually driven and image-based site. The audience for Pinterest is also distinctive, as it skews overwhelmingly female: 80 percent of Pinterest users are women.
For your purposes, you'll definitely want to create an account on Pinterest for your business. Then, start pinning! You can create different boards for different subjects, to help keep your pins organized.
Definitely pin every new blog post or content offer from your site – however, remember to keep the self-promotion to a reasonable level. Also, if you're going to use Pinterest to promote your own content, make sure each piece of content has a strong image with it: the image is what's going to be seen on your board. And just like Instagram, Pinterest is an excellent venue for showcasing new products.
Take some time to look around Pinterest and pin things to your own boards that are relevant to your business or your market. "Re-pinning" things you see on other user's boards is a good way to increase your visibility and improve your online reputation.