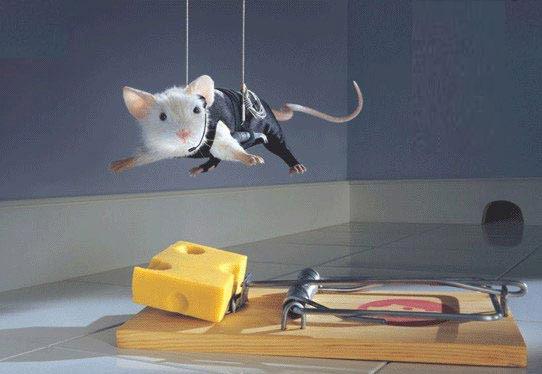 This is our third installment on our HubSpot case study. Let me refresh who we are and what we are doing. Rhino Digital Media, Inc. got involved with Hubspot in December of 2013 and became a certified Hubspot partner in January of 2014. We made the conscious decision to start from scratch. We worked with another Hubspot partner and created our SMART Sales website™ that launched on February 24, 2014. We took down our old website and created all new branding, all new content, all new content assets (whitepaper, eBooks). Today is May 7, 2014 and we will be reporting on results that came in during the month of April 2014.
Our intention is to put the Inbound Marketing Methodology to the test. All of it right out of the Hubspot playbook, step by step.
To date we have accomplished the following:
SMART Sales Website™
Created 9 offers
Created 4 campaigns
Established Social Media sites (Google+, Facebook, LinkedIn, Twitter, YouTube)
Blog 5 days a week. (Just exceeded 50 posted blogs)
Started an email plan to advance our "Inbound Marketing Bootcamp Series"
Onboarded our first full Inbound client www.zappest.com
Worked with another Hubspot partner on the Zap account. (Spark Reaction)
Have begun to create a video series in both live format and as whiteboard animation on the Inbound Marketing Methodology.
Have begun development of a webinar and podcast series.
Hopefully our efforts will pay off as we are putting everything we can into a very serious effort to become a Platinum Hubspot partner on the West Coast.
At this moment we are seeing continual but very gradual improvement. The single sale that we made in March cannot be attributed to our website, it was actually a referral from another client pre-Hubspot.
Lets review some analytics and see what you think. I am trying to be optimistic but when I compare my results to my friend at Nectafy, Lance Cummins, we are just not in the same ball park. That may be because we started from a zero on website traffic. But our overall traffic needs to improve.
Visits:
Here is a shot of our Google Analytics.

We also did a Google AdWord campaign and this is a shot of those results.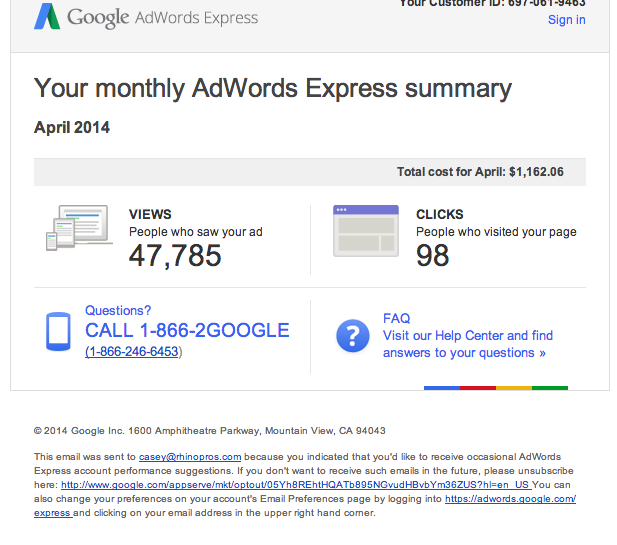 As you can see our numbers on the google analytics report are strange. In the early part of March we feel the results for direct traffic were still primarily to do with the fact that friends, family and business networks were looking us over. We were the new guy on the block. As the April time frame kicked in we are hovering around the average of 160 visits in the month. In reality that could be compared to nothing in the month of February. The AdWords campaign really didn't help in our estimation. You can see the cost to get 98 clicks and not a single customer. We turned it off for May.
Now here are some looks at Hubspot reports: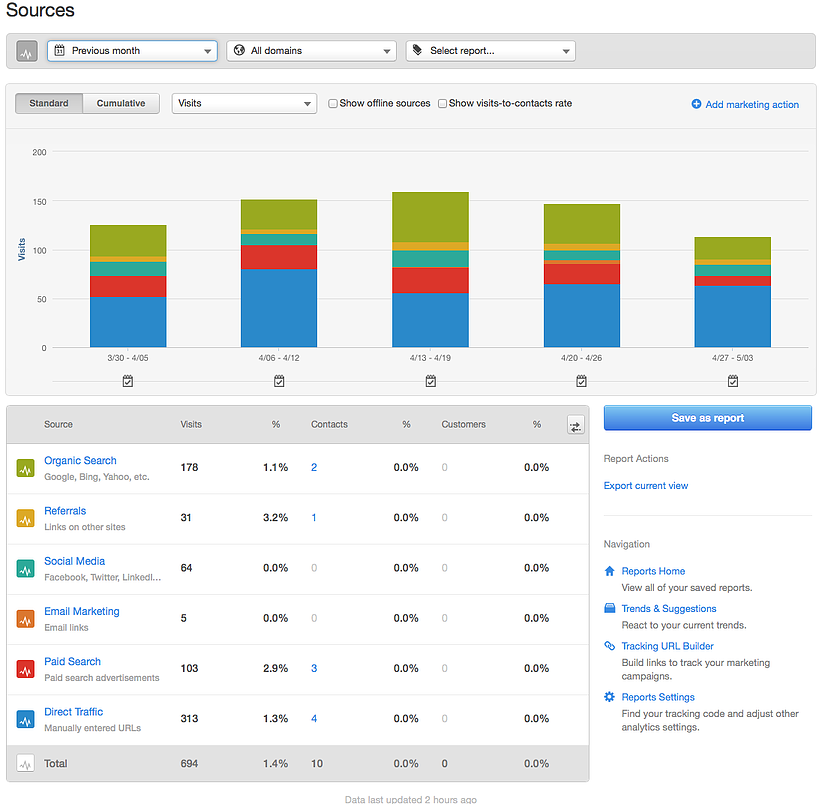 Our overall numbers dropped from the previous month, but that was primarily due to the drop in direct traffic. In Organic search we saw a minimal improvement. In Referrals we actually saw a decline but that had to do with a hot blog we did the month before that was featured in inbound.org and we received about 70 visits from that single article. Social Media is up and email had not yet had a campaign. We have launched our first two actual email campaigns this month (May) and are awaiting numbers as I write.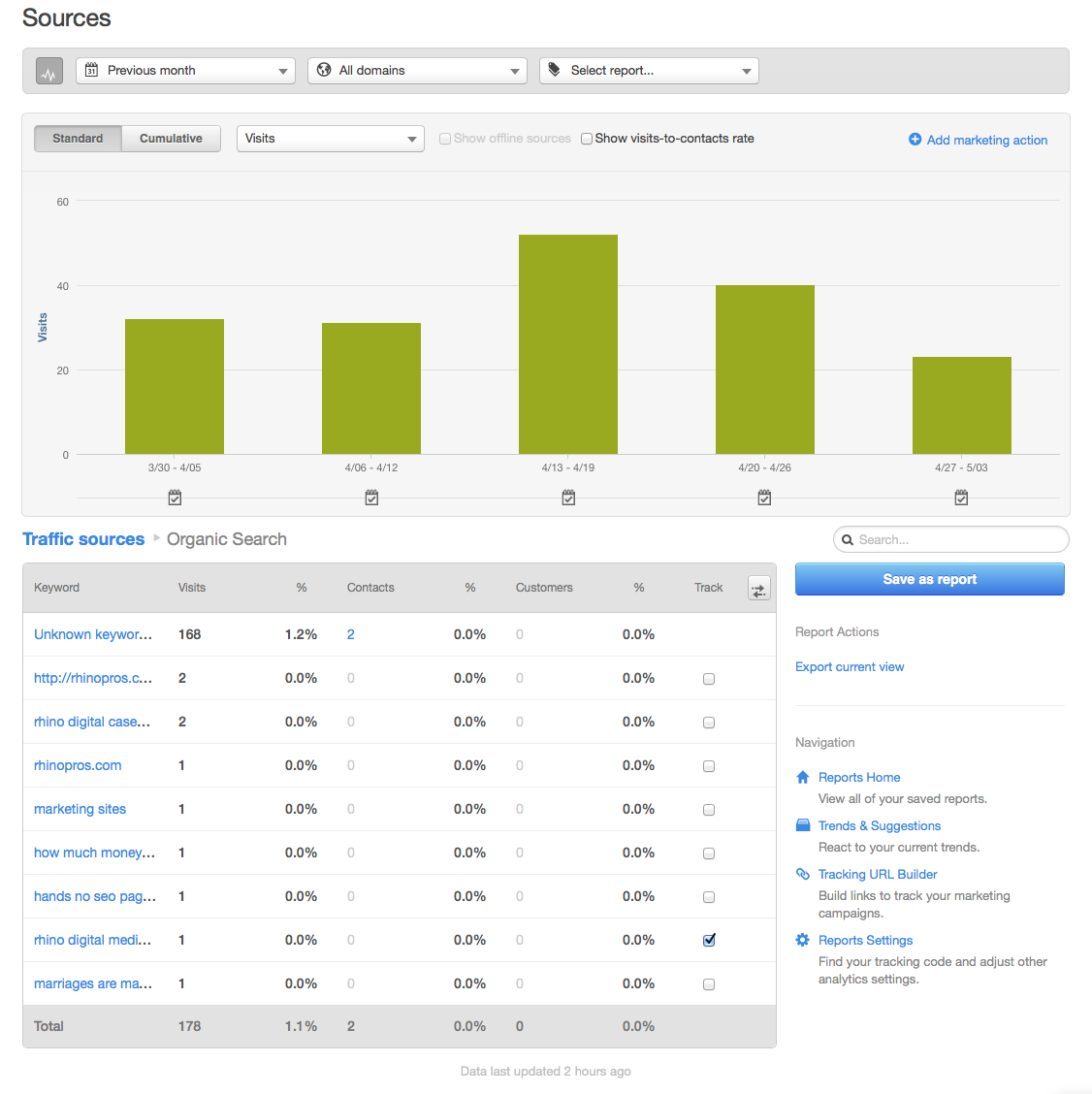 This organic traffic is the metric we have been working the hardest on with blogs, SEO and keyword adjustments. The organic search metric continues to move up and we are hopeful that this will be the place that we see our first real Inbound customer sale. The next three metrics, Referrals, Social Media and Email marketing are areas of effort in the month of May and hopefully our report for May numbers will show continued improvement and in particular leads and sales.
As we mentioned in the beginning of this article we launched our first full Inbound retainer customer literally on Monday of this week. I would like thank Josh Ames with Spark Reaction for his invaluable help in building our SMART Sales Website™ and feedback is desired. So go take a look and let us know what you think. (www.zappest.com)
We are very committed to Inbound and to Hubspot and will continue to forge ahead daily and look to improve on everything we are doing. We had three great opportunities with leads in April and they are still very real possibilites for retainer clients in the near future. We hope that all of our friends and partners in the Hubspot community will continue to provide help and advice.
At the end of two full months March and April we have come from nowhere to 694 visits in April! That's not bad and it's got us pumped up around here to keep it going. Would greatly appreciate your comments, criticisms, observations, and overall thoughts.