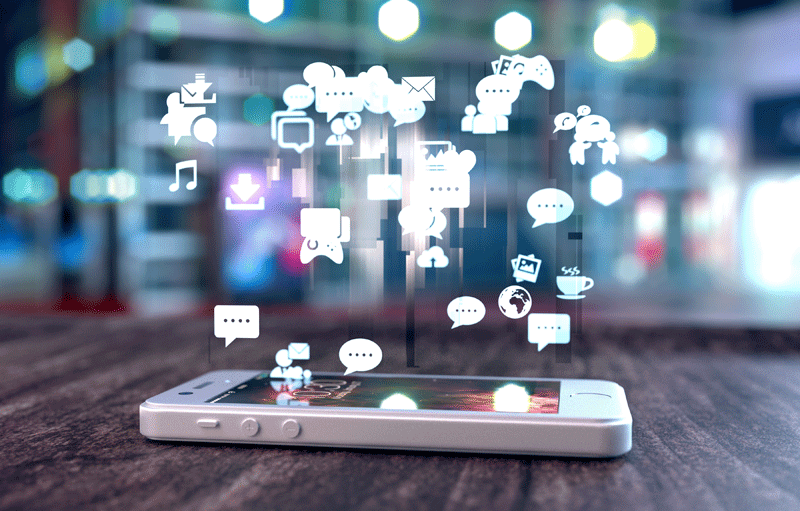 Social media can seem vapid, conceited, and a waste of time to some people, and maybe they are right. It can be full of empty conversations, unsavory opinions, and constant spam, but there is also another side to it. As a business owner, social media can actually be a marketing tool and platform to promote your company.
According to Statista, the statistics portal, 78% of US Americans had a social network profile as of 2016. This percentage has been increasing steadily considering that in 2008 it was only at 24%. It is clear that people enjoy spending time on social media whether to connect with friends, meet new people, or stay updated on news.
Research from eMarketer found that almost 90% of US companies (with 100+ employees) use social media for marketing purposes. There must be some sort of value there, but is it worth it for small businesses as well? I definitely think so. Let's look at the positives and negatives to this issue.
Why you should use social media
Free promotion
Anyone can set up a social media account for one payment of $0. Unlike most other advertising out there, social media is a free option (although there are paid advertising options, if you so desire). With as little as an email address, you can set up a new account and get going right now.
There are also very little restrictions on what you can post. There are no bans on outright self-promotion but that generally isn't the primary goal or purpose of the platform. Social media generally shouldn't be used to just push your product or service. You can, but you will likely not be very successful or get much engagement.
Social media is all about being social (hence the name), so you should engage with your followers/fans, post interesting content, and converse with other people in your industry. As you build an audience, you will have people who actually care when you do promote something.
Connect with customers
As I said before, the social aspect is incredibly important when using social networking sites. If you have a business page, you have another great opportunity to provide customer service and keep loyal customers coming back. You can encourage past or current customers to post questions or complaints to your page and then respond right there for all to see.
You can also hold social media exclusive contests or discounts. You can offer your followers special deals or promotions, which can help grow your audience and delight them. People like following their favorite brands on social media. According to Cognizant, 63% of consumers expect companies to offer customer service on social media.
Share updates quickly
Are you offering a brand new product? Changing an old one? Moving to a brand new office? Hired an awesome new employee? Bought a delicious burrito for lunch?
Sure, you could post that information to your website, but that might take a while and is likely inappropriate for the location. On social media, anything goes! You can give your followers instant updates to anything happening with your company and help them stay connected. Not only does this keep them informed, but it helps foster a relationship with your audience.
Drive traffic back to your website
Social media can often be a huge source of traffic to your website. By sharing links to blog articles or pages on your site, you can send people straight to the pages you want. Just having a link to your website in your social media bio or description can send traffic your way. If people like what you are posting, they might be motivated to learn more about your company.
You don't want to only post your own links though, which might annoy some followers. It can be helpful to share some of your favorite, relevant links too. Additionally, if you see any other users post your content, you have the opportunity to share it or reply to it, which continues to foster relationships.
Why you shouldn't use social media
Lack of time
You don't need a whole lot of time to use social media because it only takes a few seconds to write and post something, but it does take time to come up with a whole strategy and plan. It also takes commitment to respond to messages and posts, and most people expect a quick response. If you are a business owner or maybe self-employed, you probably don't have time to constantly check social media sites for updates.
If you honestly don't have the time or want to make time, then social media might not be the best choice. It is easy to tell when a business doesn't care about its social presence and doesn't put in the effort. Being careless with it might actually hurt your reputation, so decide whether you are willing to make the effort.
Not technologically comfortable
Because social media is entirely digital and requires some level of Internet literacy, it might not be a good choice if that is not your forte. To be very successful with it, you definitely need to know a fair bit about Internet culture, slang, and how to use all the tools. There are so many options to customize your profile and to add on different features like calls-to-action or videos.
Also, business pages are often more complicated than personal ones, so if you already struggle with your own profiles, it might not be a good choice to set one up for your business. However, there are plenty of resources out there to help you learn, if you want.
Final Thoughts
Like any issue, there are reasons for it and against it, so it is up to you to decide which side you agree with more. Social media can be a great addition to any digital marketing plan and can help your business grow. It is not an instant solution by any means, but over time, it can generate leads and convert customers for you.
I suggest giving it a try, regardless. Because it is free to set up and relatively easy to start, you should test it out and see whether you are interested. Look to see if any of your close competitors are active and successful on these sites, and decide whether you want to give it a go. If you are interested in social media marketing, you also have the option of partnering with a marketing agency for professional help.