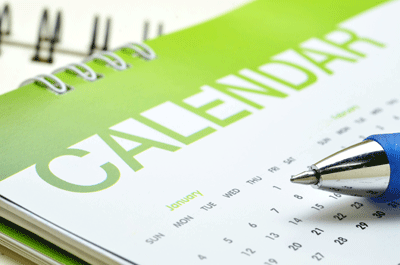 We like to think that there's an appropriate time and place for everything. For instance, baseball should only be played in the spring and summer, because the other seasons are just too cold and wet. And everyone who works in an office knows that the last two weeks of December are terrible for appointments – everyone is gone!
But when we discuss something like digital marketing, it probably doesn't seem like there's a specific time you should start. Speaking from experience, we've onboarded clients at every time of year, and it hasn't seemed to have much of an effect either way. But what if you could set a specific start date for your digital marketing efforts to begin? Is there a best time of year for it?
You don't need the calendar to dictate your marketing efforts
Sure, we'd all like to start fresh on Jan. 1, but you should not have to wait to start a marketing campaign. Especially if you need to start making money ASAP. If you started digital marketing at this exact moment, you can still quantify and calculate everything based on annual stats – simply start the "marketing year" on day 1 of your new marketing campaign!
Because digital marketing is all on the internet, we have access to a smorgasbord of analytics; and we need those analytics to get an accurate bearing on the success of our campaigns. However, since we do compile all of these numbers, we can track any period of time and get an accurate bearing of how we performed. So the time of year doesn't matter so much when you can always pull up the last six months of data.
This process takes so much time, you need to start ASAP
One of the shortcomings of marketing online is the fact that it can take a while to pick up steam. Since Google is the most popular search engine in the world, we cater to them with our inbound strategy. However, Google uses a web crawler to index the entire web, and it can take some time for that crawler to get to your site. Plus, every time you add a new page, Google needs to add it to the index.
In the beginning, when your site is new and has only a handful of site pages, you won't be very relevant to Google. However, once your site is added to the index, Google can start sending people to your site through searches. And as you add more blog posts that utilize related keywords, you will start to become more and more relevant to Google. And that's when your site will start appearing high up in Google search results.
Start your campaigns when you're ready; not when the calendar says so
A final thing I want to emphasize is consistency. Few things are as important to your marketing success as consistency. Your blogs should be of consistent quality, posted on a regular schedule and posted often. We recommend at least three blogs per week, but five is ideal.
So when you decide to finally start the campaign, don't be obsessed with the date. Just make sure your company is ready to devote the necessary time to your efforts. Those blogs need to go up on the same days every week, without fail – otherwise, both Google and your blog subscribers will question your relevancy and timeliness.