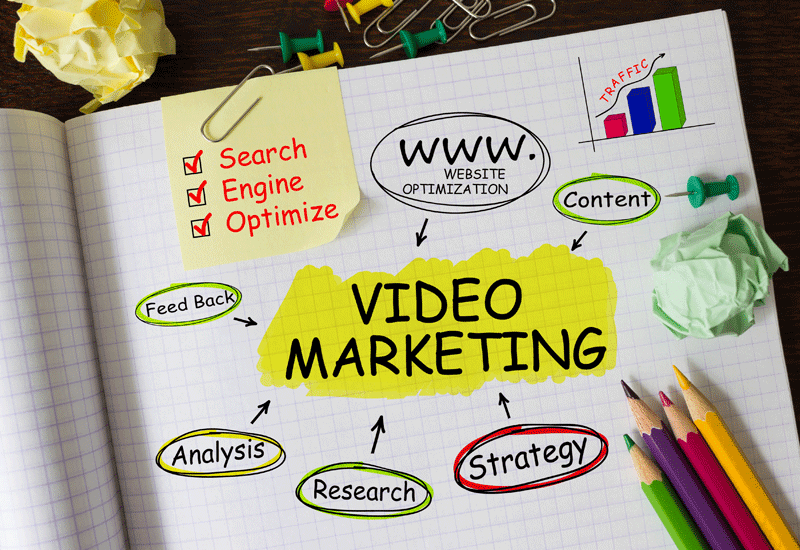 Videos are an extremely popular part of the Internet. It seems like my Facebook feed is now dominated by video clips. Additionally, Twitter videos are touted as better for engagement, and other social platforms push video capabilities as well. YouTube is often regarded as the 2nd largest search engine on the Web, even though it only features videos. Research from Google found that "how to" searches on YouTube are growing 70% year over year! Additionally, because Google owns YouTube, videos often rank quite high in organic results.
There is definite potential for companies to market with videos, and many companies are already taking advantage of it. Here are 5 small business using YouTube for content marketing. As you can see, even if you own a pest control company or a taco shop, there is opportunity for a great video. Videos allow you to share even more information in an engaging manner, and it appeals to visual learners. Not everyone likes reading articles, listening to podcasts, or viewing slideshows.
Need some statistics to convince you?
You might know how popular videos are, but are they actually useful for marketing? Luckily, there is a fair amount of research on this topic. Here are some statistics to show you the value of video marketing.
As you can see, video should be the next step in your marketing efforts. Consider your own Internet habits and thoughts on video. I know that I prefer seeing videos of products when I visit a company website. Zappos is a great example of B2C video for sales. The company is famous for selling shoes, and if you click on a shoe, you will see high quality photos and a video description. The video allows you to actually see the shoe on a real person, which I find extremely helpful when shopping online.
Where to begin
Many marketers are probably hesitant to try video marketing because of the learning curve. If you have never made a video before, it is understandably intimidating. Before you start, you should brainstorm possible ideas for videos. Will you give demonstrations or how-to videos? Maybe, an introduction to your company or interview with your team, or you might simply repurpose any TV commercials online. What would your buyer personas like to see?
Once you have an idea, consider how long you want the video to be, are you going to hire an outside company to film it, and what are you hoping to accomplish? You might even decide to film it yourself. If you looked at a Zappos video, they are all very simple and basic yet effective. It doesn't need to be a Hollywood blockbuster. It just needs to be appropriate and helpful for your customers.
Promotion
Once you have a nice video, you need to promote it somehow. How you do this depends on the purpose of your video. If you are doing a product demonstration, it would be most appropriate on your website next to the product. If the video is about your company culture, it might fit on your homepage or "about us" page.
Another great place for promotion is social media. Hopefully, your business is active on at least one social media site. On some platforms you directly post the video, and others you might have to just share the link. Videos often drive high engagement rates and clicks on social media. Another option is to share the video through email marketing, if appropriate. According to SalesForce, emails with embedded video increased click through rate by 54%! A video could enhance your monthly newsletter, or it could help you gather leads.
When video isn't right
Any video has the potential to go viral or attract an audience, but that doesn't mean that every video will. If you honestly don't have the slightest clue about videography and don't have the budget to hire anyone who does, then maybe video isn't the right choice yet. Nobody wants to see a horribly made attempt, which could actually end up hurting your credibility.
If you do make a video, ask other people for their opinion before publishing it to your website. Don't be discouraged from low views. There is an absolutely insane amount of videos out there, so if you want to stand out, you need to do something really unique and great. However, your company videos shouldn't really be trying to reach everyone. It is probably more worthwhile if they target your niche. Even if you do publish something that isn't good, there is always a delete button. Video might not always be the best option, but it can be another interesting way to get your content out there.